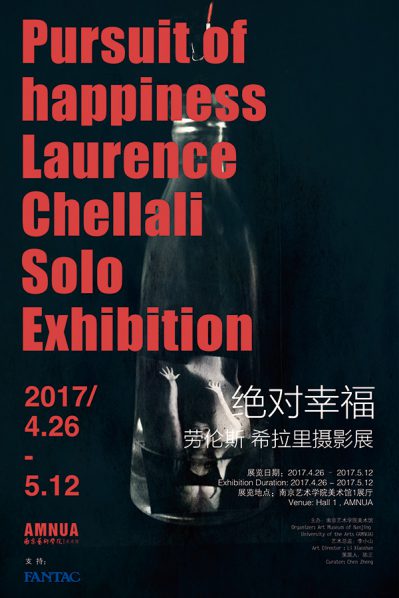 Pursuit of Happiness
By Chen Zheng
As the spring comes with an exhibition that matches the theme. A city like Nanjing where Spring and Autumn are often in lack of existence in comparison with Summer and Winter, the pleasantly warm spring breeze just seems much more precious. With the awakening of the plants and enthusiasm that fills us, with hope and desire for happiness, together we thank with our sincere gratefulness for the courage that Spring brought upon us .
Two videos and The annoyed idealist, As the moon-brilliance westward makes its crossing, so cherry blossom shadows eastward formed this solo exhibition by Laurence Chellali, although personally I see the exhibition as the resulting experience by these three frictions.
Friction one: Chellali first moved to Nanjing from France due to the reason of her husband's mobility in his occupation, in her work As the moon-brilliance westward makes its crossing, so cherry blossom shadows eastward appears the fascination she holds towards Eastern Asia culture and also a kind of rupture towards her original culture. Coalescence and uncertainty are emerged in her photographs, although the distance on geography level had been eliminated long ago, but the real society had grew a new kind of inner-distance with the form of spectacle-separation.
Friction two: a great success were achieved in repression of modernization – integration in National Economy, renewal in science & technology and various of unanswerable falsehood had deprived our pursuit in happiness and dreams. The annoyed idealist endeavors in the creation of an 'Overturning' confrontation by employing female sensation, but often times intermittent and fragmental resistance like this could turn most of our contemporaries into idealists as well.
Friction three: essential differences does not exist between static photos and dynamic videos, such medium as image & video holds the social relations between people, decoration and confrontation represent the pursuit in happiness. Vainly discussions on objectives does not bring any value, efforts that wont lead to success is often viewed as fruitlessly works, but we should not hold any prejudice against our occupations, but to be the resistant who are against decadence on our way pursuing dreams, even there is no such existence like 'Pursuit of Happiness'.
Art reveals the stories of our own instead of enslavement, Chellali's works reveals the sensuality and secularity that only belong to female artists, whether its a cognition to oriental beauty or a challenge to 'Pursuit of Happiness'. Achievements in language rights comes before individual identities, female artists turn their invisible and ambiguous subjective consciousness with graphicalization and clearness in order to obtain their abilities of appeal.
Like the title As the moon-brilliance westward makes its crossing, so cherry blossom shadows eastward comes from an emotional express of the artist towards a Japanese poem, letters are one's narration and thoughts, as a paragraph in Higashino Keigo's novel Bunshin narrated: perhaps, everyone is looking for their identities, and because it can not be found , everyone is meant to be alone.
Nanjing, still a city with short spring.
About the exhibition
Dates: 2017.4.26 – 2016.5.12
Venue: Hall 1, AMNUA
Organizer: Art Museum of Nanjing University of the Arts (AMNUA)
Art Director: Li Xiaoshan
Curator: Chen Zheng
Vernissage: 15:00, 26th April 2017
Courtesy of the artist and AMNUA, for further information please visit www.nuamuseum.org.
Related posts: