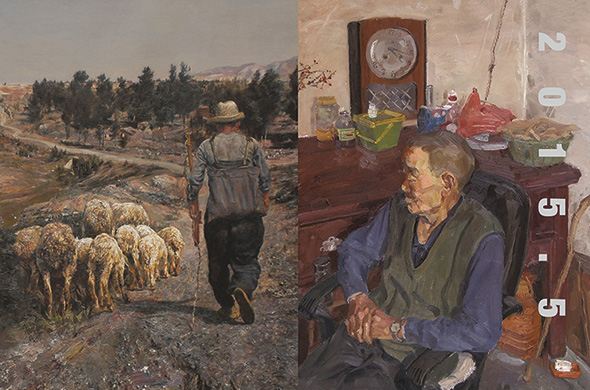 When we went to Zhagana to sketch, Guo Hua often talked about how he admired classic masters, revealing his background and tastes. Today, classics are often distorted in a variety of forms, and ignored by the people who find it difficult to achieve the classic quality or consider that it lags behind contemporary art by fabricating seemingly esoteric excuses and reasons. I haven't thought art is advanced or backward, but emphasize the nature of the art itself and the true temperament of man.
The works by Guo Hua and Zhang Liming reflect the ordinary scenes of ordinary people. Their works are simple, instead of flaunting; shaping or being binding. They try to infer the real "tempted" work, making mental and physical efforts to express the characters through their brushwork, through the work to show concern for others, the individual growing environment, as well as the people related to it and events within the environment. So, for the creation we can also apply this slogan in contemporary art that painting is not just a painting, as it is more important to show the artist's attitude.
Good Wishes to the artists in working hard and marching forward courageously!
Text by Li Xiaolin
About the exhibition
Pursuit of the Sublimation of the Mind – Guo Hua and Zhang Liming Oil Painting Exhibition
Opening time: 3:00 pm, May 23, 2015
Duration: May 23 – June 6, 2015
Venue: Teaching Exhibition Hall of Chinese Academy of Oil Painting (No.1704, Gaobeidian Cultural Arts Street)
Host: The Chinese Academy of Oil Painting affiliated to the China National Academy of Arts
Organizer: Teaching Exhibition Hall of the Chinese Academy of Oil Painting
Courtesy of the artists and the Chinese Academy of Oil Painting, translated by Chen Peihua and edited by Sue/CAFA ART INFO
Related posts: