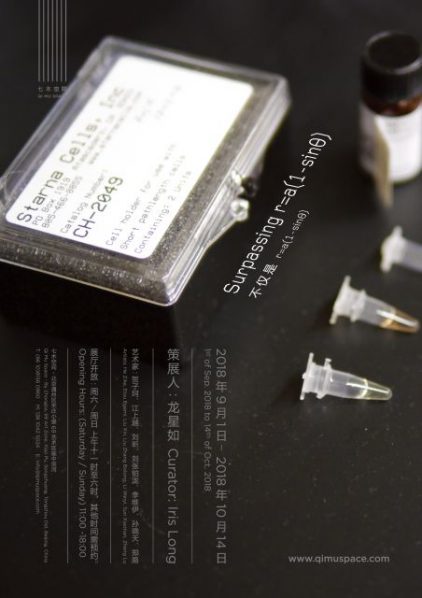 Qi Mu Space is pleased to announce the opening of Supassing r=a(1-sinθ), a special project curated by Iris LONG. The exhibition will last until 14th of October, 2018.
I. Fleeting Balance
Poetry written by Microsoft's AI has been published with no need to maintain copyright protection; Coditany of Timeness, a heavy-metal album and software imitating Lichtenstein's work, have been written by bots; the eccentric Debater won against humans by getting more votes from the public; and Siri, Cortana, Alexa, and other digital voice assistants, just as the neural network encryption algorithms (Alice/Bob/Eve) created by Google Brain, were all given human names. Today, after a long period of evolution, the model of interaction between humans and technology seems to have reached a brief state of dynamic balance. People have begun to artistically interpret and beautify science, making up for the gap between social audiences and hardcore technology, something utterly incomprehensible to the majority of people around the globe.
II. Metadomain
The intermingling of technology and art has allowed for the existence of a metadomain, where individuals can engage in gamematic, story-like creation not aimed at functionality. This exhibition will be based on this dynamic balance between humans and machines. It presents the issues of technology and art from a more equal and compatible perspective. There will be no "technological" raw materials (such as bare circuit boards) on the site, and neither will there be any particular preference between science and art.
III. Apeiron
Anaximander, a philosopher of the Milesian School in Ancient Greece, believed that different kinds of substances in the world came from a basic component called apeiron ("the infinite"). Today, data has become this basic ingredient. Data exists in the structures of fundamental algorithms, and even though people use it every day, they do not know much about it. Technology has allowed people to measure and quantify time, space, environment, and even the spiritual domain in a very precise way. This means that the methods and logic of testing, quantifying, and categorizing, originally applied in the field of information and machinery, are now starting to be applied elsewhere. This has led to a tendency for an over-simplification of human society, the emergence of data authoritarianism and new social classes, and even the re-examination and possibly elimination of existing human values.
IV. This One Word
The "metadomain" mentioned above, along with the continuous integration of mankind and technology, not only makes up for the gap between hardcore technology and social audiences, but also, with a truly Dadaist attitude, provides a tabula rasa to the fast-developing society of the computer age, allowing people to show the expanse of their creativity. The aim is not to build a magnificent spectacle in this open "metadomain". Flaubert said, "There existed only one way of expressing a thing, one word to use, one adjective to qualify it, and one verb to give it life." That is why people strive toward superhuman labor to discover, in each phrase, that very word, epithet, and verb.
V. The Exhibition
The goal of this exhibition: finding that one word.
SPECIAL PROGRAMS
• In the Anonymous Room
Exhibiting artists residing in different time zones are invited to co-edit a text file on Simple Note. The program simulates an anonymous room for free conversation, without obligatory updating "deadline" and pressure of real-time communication. The theme of this document is about today's life and technological environment; the content can either be documentation of everyday moments or serious writing, reading notes, random chats or self-questioning. The final document will be released together with the exhibition without announcing the writers behind each sentence.
• The Curious Tool
"Tools" often open up new creative dimensions. Tools used by artists/creators can already form a micro archaeological subject. Exhibiting artist, on various levels, employ "curious tools": machine learning, Amazon Mechanic Turk, chemical processes, etc. The curator of the show will compose six short interviews with artists regarding their "tools".
About the artists
Zike He
Graduated from the department of Future Media Art, Central Academy of Fine Arts, lives and works in Beijing. Works explore the disorder of cognition via different devices of narration and information organization. Recent projects involve with the discussion and application of artificial intelligence and searching system.
Etsu Egami
Born in Japan. The difficulties of linguistic communications encountered because of her multi-culture background have led her to the studies of linguistic, sociology and anthropology. In 2017, she participated in an exchange program at HFG Germany and opened her two solo exhibitions: "Into the light…"(curated by Peter Weibel) and "Dialogue beyond 400 years"(curated by Shigekazu Kondo and Shigeo Chiba). She also received the Japan Chiba city government Art and Culture new artist prize in 2017. Now she is a post-graduate student at Central Academy of Fine Arts, supervised by Liu Xiaodong.
Xin Liu
Xin Liu (1991, Karamay) is an artist and engineer, whose research-based projects range from performances, apparatus, installations to scientific experiments and academic papers. Trained as an engineer from young age, she speaks in technology and science as her native language. Xin is the recipient of the Van Lier Fellowship from Museum of Arts and Design and the Arts Curator in Space Exploration Initiative in MIT Media Lab. She has shown her work internationally at events and venues including Ars Electronica, Boston MFA, Sundance Film Festival, The Walker Art Center, OCAT Shanghai, ISEA and Music Tech Festival Berlin. As a researcher, Xin has worked in institutions including Microsoft Research NYC & Asia and Google ATAP.
Weiyi Li
Weiyi Li is an artist weiyi.li, designer weiyiandfriends.com, curator bigbadgallery.com, publisher re-publication.com and retailor currently-available.com who lives and works between these URLs.
Zhangbolong Liu
Graduated from Materials Science and Engineering Department at Tsinghua University, Beijing (B.E.) in 2012 and Photography, Video and Related Media at School of Visual Arts, New York (M.F.A) in 2015. He has won Shiseido Prize (Three Shadows Photography Art Center, Beijing, 2014). His recent shows include A Chemical Love Story at Tang Contemporary Art, Beijing (2017); La Gaya Scienza at Taikang Space, Beijing (2016). His curatorial practice include The Imagination of a Museum at J:GALLERY, Shanghai (2018).
Gina Sun
Multidisciplinary Artist and Designer, the direction of research focused on sensory design, human-computer interaction, interactive information experience, kansei engineering, sensory experience, Media and Digital art. Recently she based in interactive lab at Kyushu University studying for Ph.D. Her Works are mostly presented as functional and romanticism interactive installations, through Art,Design,Science and Technology, She pay close attention to explore the relationship between human and computer in the information era and the lifestyle of urban people under the new era.
Zheng Lu
Born in 1978 in Chifeng, Inner Mongolia. He has a bachelor's degree from Sculpture Department of Luxun Academy of Fine Arts and a master's degree from Sculpture Department of the Central Academy of Fine Arts. In 2005 he won the L.V.M.H. Prize and was sent to study at École Nationale Supérieure des Beaux-arts, ENSBA, Paris. In recent years, Zheng has gradually formed and improved his own artistic logic and linguistic system. He takes concepts like space and dimension into the new framework of ideas, and implements the language for the insight of reality, in order to weave "the other place" in the texture of space view.
About the exhibition
Dates: Sep 1, 2018 – Oct 14, 2018
Venue: Qi Mu Space
Courtesy of the artists and Qi Mu Space, for further information please visit http://www.qimuspace.com.
Related posts: