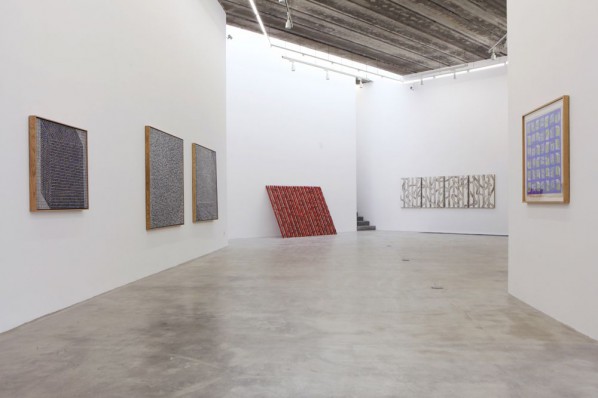 C-Space presents Qin Yifeng's solo exhibition – Line Field, curated by Zhou Ying, and the exhibition will run through January 25, 2015.
Since he started his "Cube" series in 1992, Qin Yifeng (b.1961, Shanghai) had begun to work on his lifetime project – "Line Field". His process brings a complex reality down to its basic, universal elements in a process of involution, as opposed to that of evolution. Qin has been following this path to its deepest point and, in following it, he is continually discovering new "Line Fields": each Line Field is a map of a particular state of consciousness, a representative model of a deeper reality which cannot be reached and acknowledged with our senses only. The "Line Field" series is also closely connected with his own exercises in calligraphy. The very repetitive act of tracing characters as a way to memorize them puts the writer/artist in a particular state of mind. The repetition of lines in patterns creates a similar experience in both the artist as a creator and the viewer as the being experiencing the act of creation: an empathic link through a Samadhi-like interaction with reality. Samadhi is a higher level of concentrated meditation which transcends the realms of body, mind and intellect, and where the logical and analytical ability of the being becomes silent. In this way, the exercise of transcending reality becomes a means to understand it at its deeper, elementary components.
This is the first solo presentation of the "Line Field" series since 2000, in attempt to showcase an overview of the artist's experimentations and explorations in painting over the past two decades.
About the exhibition
Duration: 2014.10.25 – 2015.01.25
Venue: C-Space
Address: Red No.1 – F, Caochangdi Chaoyang District, Beijing 100015, China
Courtesy of the artist and C-Space, for further information please visit www.c-spacebeijing.com.
Related posts: