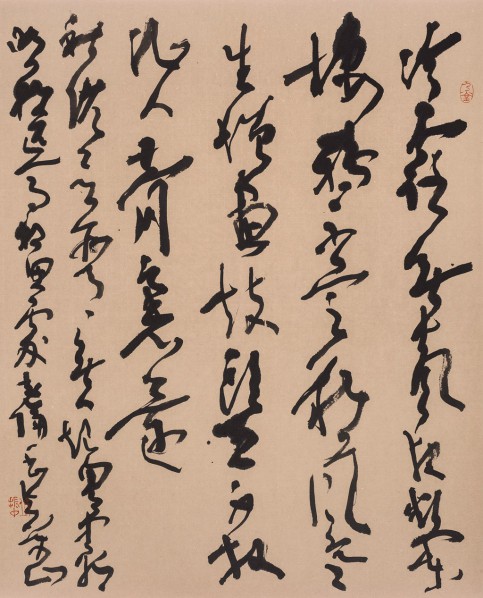 Qiu Zhenzhong was born in Nanchang in 1947. He is a contemporary artist, calligrapher, poet, and art theorist. At the same time, he is a professor of CAFA, doctoral supervisor, Director of the Center for Comparative Study on Chinese Calligraphy and Painting, a member of the Experts Committee at the National Art Museum of China, one of the directors of Chinese Calligraphers Association, the deputy director of the Academic Committee. It is 26 years starting from "The Original Four Pieces Series–Qiu Zhenzhong's Calligraphy Exhibition" was held by the National Art Museum of China's in 1989 to "Qiu Zhenzhong: Starting Point and Generating" in 2015, and it has separated an important artistic creative stage in the works by Qiu Zhenzhong. Writing is an important factor for contemporary art and the writing of Chinese art is fully developed in calligraphy. Qiu Zhenzhong applies his achievements in calligraphy in contemporary art, bringing a new style for Chinese contemporary art, to reveal a wide range of possibilities for transformation between Chinese traditional and contemporary art. Many important theorists and critics such as Fan Jingzhong, Cao Yiqiang, Shen Yubing wrote articles for the exhibition. These articles are of sharp thoughts and penetrating insights, giving important implications for thinking of Chinese contemporary art.

Fan Di'an said, "The exhibition created a space to trigger a discussion on the meaning of calligraphy and the mechanism of writing. Such an exhibition is part of the new academic ideology, opening up a new writing motivation, inspiring the vitality of creation, to reveal a new world of thought. A new sensibility blooms and develops with an inner writing motivation, which is vivid and full of charm."
Shen Yubing said, the works of Qiu Zhenzhong presented a unique structure, which did not only include the innovation of composition but a new mental order, they showcase "the possibility for Chinese contemporary artists to build a new rule in the game dominated by Europe and the United States."
Cao Yiqiang said: "There is a direct contemporary significance in Qiu Zhenzhong's art practice, and it removes the limitations of medium of material, Chinese and Western values and art categories, but freely opens experiments, it is a creative power for the purpose of rediscovering the mind, tradition and reality."
Fan Jingzhong said: "The man's labor is so humble, but thinking of it, we would find it is so grand. Even God is finally influenced, he said: Calming down, allowing darkness to fall into your wall, it is the darkness of God. It is the modernity in the work by Zhenzhong, his ink works reveal 'the darkness of God'".
About the exhibition
Curator: Fan Di'an
Exhibition Time: June 24, 2015 through to July 10, 2015
Organizers: China Central Academy of Fine Arts, Guangdong Museum of Art
Halls: No. 5, 6, 8, 9
Courtesy of the artist and Guangdong Museum of Art , for further information please visit www.gdmoa.org.
Related posts: