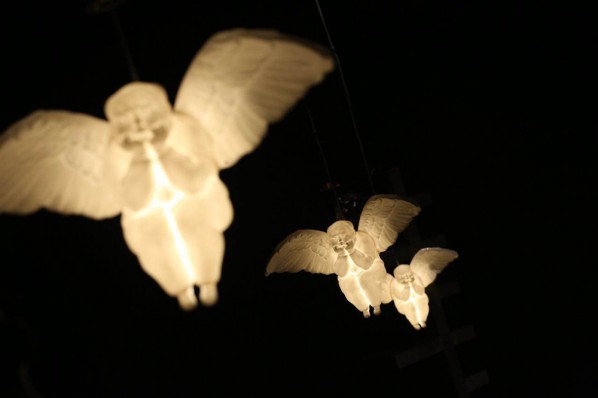 The sculptures of Qu Guangci are like words that tell a tale. It is not only narrative but also filled ingeniously with obscure allegories. The ambiguous attitude in the opposing state between the subject and the space of the sculpture become more direct and explicit. Besides the rearranging and parody of existing works such as art works, political figures, iconic figures, posters and public events, included in this exhibition are completely new works that expand to the visualized re-presentation of the mass behavior in the current society.
In the Chinese literature classic Liezi – Tang Wen was a mystic country "Northernmost Country", where the land is flat but sterile, the climate mild but no living creatures nor wind, rain, frost or snow. People there are soft at heart and weak in body. They do not work, do not think, nor do they have emotions. They do not ail, or have disasters. They do not starve, nor do they feel full. They do not think, nor do they miss anything. The just wander leisurely and sing beautifully all day long. This country in the utmost north might be the state the little fat figures in the works wished to build. When we are doomed to fight for our life and strain to write down our so-called thoughts and spirits,we get tired in the end and the illusive dream is then to think not, miss nothing and live in ultimate joy.
About the exhibition
Curator: Gao Peng
Duration: Nov 22 – Dec 13 2014
Venue: Today Art Museum – 2nd floor exhibition hall of Building No.1
Courtesy of the artist and Today Art Museum, for further information please visit www.todayartmuseum.com.
Related posts: