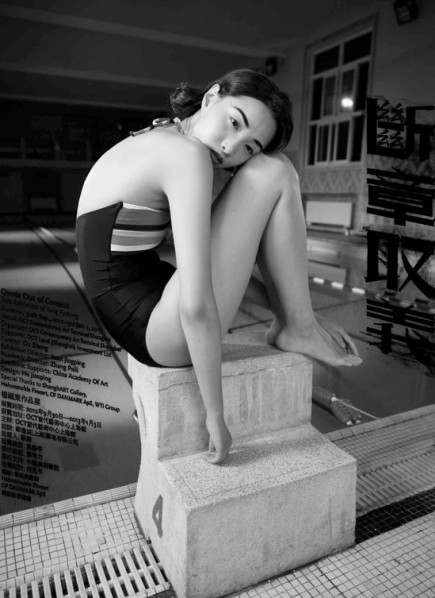 Yang Fudong who is one of the most successful and influential artists in China. The Shanghai branch of the recently rebranded OCT Contemporary Art Terminal Shanghai is honoured to host Quote Out of Context – Works by Yang Fudong, as its premier showing in an art museum. Over 50 of his major photography works and one video installation will be exhibited, showcasing his achievements from his early period up to now.
"All too often I find the epiphanies from serendipitous happenings to be of the highest significance. I would call this kind of learning process 'quote out of context'". Said Yang.
The contemporary age is one characterised by the crisis of meaning. The 'meaning' of the general crisis of life and existence needs to be redefined and reinterpreted with fresh perspectives, new methods and techniques.'Quote out of context' is both Yang's own interpretation of the production of meanings as he himself is confronted with reality and tradition. It is also an attempt to express his attitude towards the meaning of life through the exhibited photography works and installation. With his unique mode of visual production (and by extension meaning production), Yang Fudong suggests to us that the fleeting moments and fragments he has supplied contain his personal understanding and visual interpretation of the secrets of life and meaning of existence. Such an unique visual interpretation is inextricably linked to the characteristics of the media he employs (cinema, video and photography). These fragmentary (hence out of context) approaches to the interpretation of the world have close affinities with the reality of a contemporary society riven by the fragmentation of meaning and value systems, while meeting the requirements of meaning production characterised by multiple perspectives, instant capturing and switching with a view to establishing overarching connections. With 'out of context', Yang has made it possible for his intended interpretation of meanings to find full expression in reality. 'Out of context' is at once a technique and means of reflecting on and producing 'meaning' and an attitude towards 'meaning' itself.
Yang Fudong has been known for capturing 'serendipitous epiphanies' rooted in reality with a heightened sensitivity and tension and transforming them into visual opportunities to showcase the complex and often ambiguous meanings caught between reality and non-reality. Such sensitivity can only be derived from a profound'empathy' with the relation between life and art, without which no work that helps people to 'empathise' with the meaning of life could ever be created.
—— Gu Zheng /Curator
Yang Fudong was born in 1971 in Beijing and trained as a painter at China Academy of Art between 1991 and 1995. Starting in the late 1990s, he embarked on a career in the mediums of film and video, working and living in Shanghai.
Yang Fudong's recent important solo exhibitions include:2012 The Fifth Night ,Yang Fudong solo exhibition, Vancouver Art Gallery, Vancouver, Canada; 2011 The Distance of Reality, Yang Fudong's Solo Exhibition, Wifredo Lam Contemporary Art Center, Havana, Cuba; Yang Fudong, Utopia and Reality, Espoo Museum of Modern Art, Tapiola, Finland; One half of August, Yang Fudong Solo Exhibition, Parasol, Unit Foundation for Contemporary Art, London, U.K.; Yang Fudong: No Snow on the Broken Bridge, Sherman Contemporary Art Foundation, Sydney, Australia; 2010 …In the Bamboo Forest…, Kunsthaus Baselland, Basel, Switzerland; Yang Fudong, Seven Intellectuals in a Bamboo Forest and Other Stories, National Museum of Contemporary Art, Athens, Greece; Yang Fudong Solo Exhibition, Kino Kino, Sandnes, Norway; 2009 Yang Fudong: the General's Smile, Hara Museum, Tokyo, Japan; Dawn Mist, Separation Faith, Yang Fudong's Solo Exhibition, Zendai Museum of Modern Art, Shanghai; Yang Fudong: Seven Intellectuals in a Bamboo Forest, Asia Society and Museum, New York, U.S.A.; Yang Fudong, East of Que Village, MuHKA Media, Antwerpen, Belgium.
Creating a film is a very strange thing. It exists in between your visions, his visions and my visions. What I need to make are space films or abstract films. When the work appears in the space, the "creator's consciousness" might disappear however the spectator becomes the subject, or the second director. Through watching it on-site, they get five seconds of information from one screen, and one second from another. The spectator has his own state of mind, their eyes and ways of thinking all take away the "second film" emerging from the images. This is a flavor composed by the viewer's mind, no matter whether author likes it or not, this is something that nobody can implant or communicate. That is the interesting thing about space films, the audience is very important. What the spectator sees and understands is completely based on their maneuvers.
—— The interesting part is probably the pseudo-formalism. The simple difference of this so-called pseudo-formalism lies in the issue of abstraction we discussed before. This can be seen as realism, a pseudo-abstract form. I have to emphasize again the reality that we conceive, is it indeed real? Is it pretty? Is it an abstract formalism? There will be some relevant theories; the local sensory experience you talked about is actually a very realistic effect.
—— People are used to films projected on screens, to watch the plot for a while, to feel the narrative and then to undergo an emotional transformation. When different projectors cast their images onto different material, and you watch a seemingly unimportant narrative evolve, it is like constructing a dock for images in architecture. It starts to deliberately weave navigation in the spectator's mind, it might just be anchored there, but the spectator himself can organize this film's voyage or he may just turn around elegantly; of course, the viewer's live sensation is the most important.
From "One Half of August: An interview with Yang Fudong"
—— Li Zhenhua & Yang Fudong
About the exhibition
Opening: 5:00pm, Saturday, 29th September, 2012
Duration: 30th Sep., 2012 – 3rd Jan. 3, 2013
Curator: Gu Zheng
Exhibition Director: Yuan Jingping
Academic Director: Zhang Peili
Organizer: OCT Contemporary Art Terminal Shanghai
Academic Supports: China Academy Of Art
Design: He Jianping
Special Thanks to ShanghART Gallery, Hahnemuhle Fineart, CP DANMARK ApS, WTi Group, MINDART
Related posts: