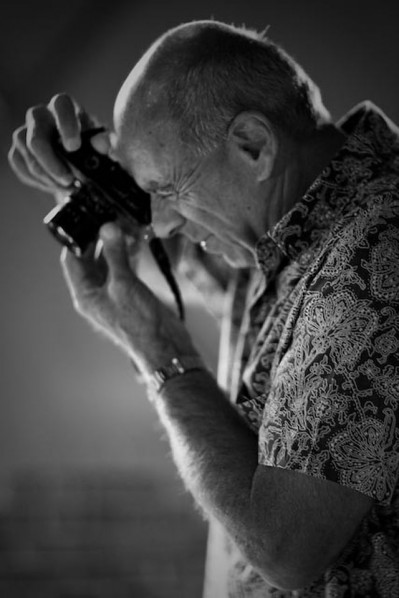 Renowned contemporary photographer Ralph Gibson has been invited as a visiting scholar to give lectures, teach and conduct academic exchange activities at the Oil Painting Department of CAFA from March 25 through to 27. This is expected to contribute to the expansion of the academic horizons while promoting pioneering practices in teaching and learning activities among the Oil Painting Department in the context of contemporary art.
Ralph Gibson (b. January 16, 1939, Los Angeles, California) is an American art photographer best known for his photographic books. His images often incorporate fragments with erotic and mysterious undertones, building narrative meaning through contextualization and surreal juxtaposition.
Ralph Gibson studied photography while in the US Navy and then at the San Francisco Art Institute. He began his professional career as an assistant to Dorothea Lange and went on to work with Robert Frank on two films. Gibson has maintained a lifelong fascination with books and book-making. Since the appearance in 1970 of THE SOMNAMBULIST, his work has steadily impelled towards the printed page. To date he has produced over 40 monographs, his most current projects being "State of the Axe" published by Yale University Press in Fall of 2008 and "NUDE" by Taschen (2009). His photographs are included in over one hundred and fifty museum collections around the world, and have appeared in hundreds of exhibitions.
Gibson has received fellowships from the National Endowment for the Arts (1973, 1975, 1986), a Deutscher Akademischer Austauschdienst (D.A.A.D.) Exchange, Berlin (1977), a New York State Council of the Arts (C.A.P.S.) fellowship (1977), and the John Simon Guggenheim Memorial Foundation (1985). The Rencontres d'Arles festival presented his work in 1975, 1976, 1977, 1979, 1989 and 1994. His book "Syntax" received a mention for the Rencontres d'Arles Book Award in 1983. He was decorated as an Officier de L'Ordre des Arts et des Lettres (1986) and appointed, Commandeur de L'Ordre des Arts et des Lettres (2005) by the French government.
His awards include: Leica Medal of Excellence Award (1988), "150 Years of Photography" Award, Photographic Society of Japan (1989), a Grande Medaille de la Ville d'Arles (1994) and the Lucie Award for lifetime achievement (2008). Gibson also received an honorary doctorate of Fine Arts from the University of Maryland (1991), and a second honorary doctorate from the Ohio Wesleyan University (1998). He has worked exclusively with Leica for almost 50 years. Gibson currently lives in New York and travels frequently to Europe and Brazil.
Related Activities
Ralph Gibson will talk about his insight and understanding of the art of Chinese and Western painting from the perspective of a photographer and gives a lecture themed "Ralph Gibson 1960-2013" interpreting his art career. During his visit, he will lead students to conduct on-site creations. Besides, he has loved playing guitar since he was a teenager, he will present a performance showcasing his fusion of photography and music in his practice of art movies and live performances. "Music for Lens and Guitar" will be held at the International auditorium on the evening of March 27.
The Oil Painting Department is pleased to present an introductory exhibition featuring Gibson's photography at the main gallery of Building 5 from March 18 to facilitate the understanding and the artistic achievement made by him, which will remain on view until the end of his visit.
Image Courtesy of Ralph Gibson, for further information please visit www.ralphgibson.com.
Related posts: