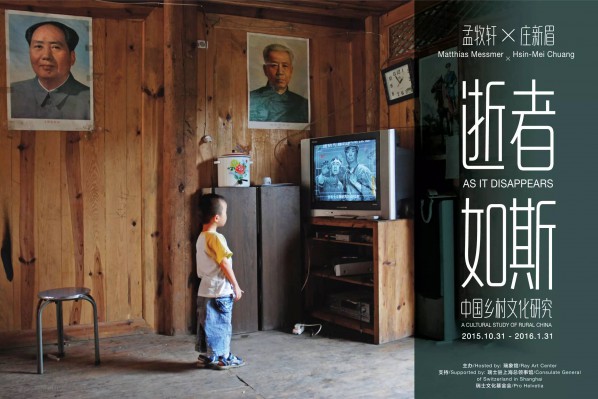 Ray Art Center presents As It Disappears: A Cultural Study of Rural China, which is inspired by a field research project that probed into rural China, conducted by Swiss socio logist and photographer Matthias Messmer and Taiwanese researcher Hsin-Mei Chuang. For seven years since 2006, they visited more than 50 villages and towns in 21 provinces and autonomous regions of Mainland China, conducting research from various perspectives including architecture, folk art, religion, Fengshui, education, environment, cultural preservation, agricultural production, and public policy.
This cultural study of Matthias Messmer and Hsin-Mei Chuang explored the altered landscape as well as shifting social life in a perpetually changing rural China. At its root, this social transition with uncertain outcomes results from a modernization process that has lasted for more than a century, but it also directly relates to the radical political movements and social reforms in the last few decades. They regard rural China as a cultural entity, and the culture here refers to both the real world space where people live and a representation of traditions and spirituality. "China's Vanishing Worlds" directly reflects the social crisis in the real world and the spirituality or even identity crisis accompanying the fading of culture. Their study focuses on the more intuitive social reality, yet their values, their judgments, and their ultimate concerns rest upon the fate of those who're living in this world.
Born from the fruitful results of this grand research project, this exhibition displays four different regions along with their corresponding research themes: "Loess Plateau", "Chongqing-Western Hunan", "Lingnan", and "Yunnan". Combining the images and texts, we utilize photographs, posters, and even physical objects collected from those regions, in order to recreate avivid glimpse of the contemporary rural China's culture and society. A variety of events such as films, lectures, and dialogues will also take place alongside the exhibition to showcase the latest research and work about rural China and contemporary society by scholars, artists and cultural experts home and abroad. With this exhibition and related events, we hope to present the audience with some excellent examples of conducting social investigatory research from visual and cultural perspectives, to inspire communication and discussion on related topics, and to actively seek effective ways for contemporary cultural experts to interact with the real world.
About the Artists
Since many years, Matthias Messmer has been travelling extensively in Eastern Europe, the former Soviet Union and Asia. The scope of his creative work includes cultural critic, writing and photography. Today, his interdisciplinary projects focus on Chinese cultural politics, everyday cultures and Western images of China. Before taking the explorative path, Messmer earned his PhD in Sociology from the University of Constance, Germany. In 2001, he received a scholarship from the Swiss National Science Foundation and was a visiting scholar in the US and China. He is the author of Jewish Wayfarers in Modern China.
Hsin-Mei Chuang was born in Taiwan, received her M.A.in Journalism from the University of Wisconsin-Madison after studying at the National Chengchi University in Taipei. Since her teens, she has been keen to discover places in the more remote corners of the world. Currently, she works as an independent cultural researcher and writer with interests in Chinese and Taiwanese cultures, colonial history in Asia, rural communities in modern society and intercultural communication.
Matthias Messmer and Hsin-Mei Chuang have collaborated on various documentary and art projects since 2006. They have published many articles and photo essays in German, English and Chinese media. China's Vanishing Worlds—Countryside, Traditions and Cultural Space (MIT Press) is their first book together.
About the exhibition
Duration: 2015.10.31-2016.01.31
Venue: Ray Art Center | Room 182, Block 5A, 128 Huayuan Road, Shanghai
Open Hours: Tue-Sat, 11:00-17:00
Hosted by: Ray Art Center
Supported by: Consulate General of Switzerland , Shanghai
Media Partner: swissinfo.ch
Courtesy of the artists and Ray Art Center, for further information please visit www.rayartcenter.org.
Related posts: