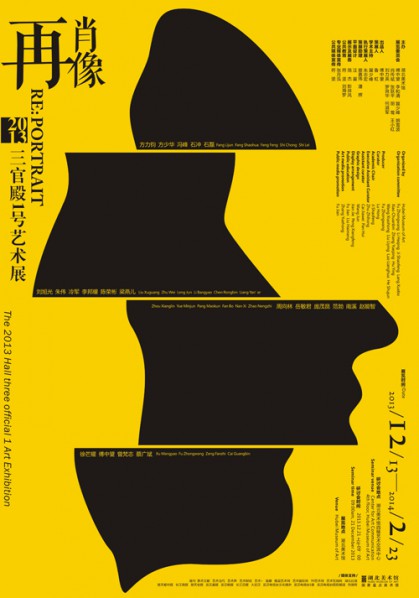 "Re-Portrait: 1 Sanguandian 2013 Art Exhibition" debuted in the Hubei Museum of Art on December 13, 2013. It brings together more than 50 works by 21 artists including Zeng Fanzhi, Fang Lijun, Yue Minjun, Shi Chong, Leng Jun, Xu Mangyao, Fu Zhongwang, which are on the theme of "portrait", covering image, installation, oil painting, ink painting, mixed media, showcasing many possibilities of portrait as an old form of art expression in the contemporary context.
It exhibits works including Leng Jun's hyper-realistic work –"Portrait of the Portrait – Xiaojiang" and "Portrait of the Portrait – Xiaotang", Zeng Fanzhi's oil painting "Portrait", Yue Minjun's "Skin" series of works, Fang Lijun's oil painting "2011-2012", Fu Zhongwang's sculpture "Mirror of Face", and Shi Chong's "Expression". Yue Minjun said, in the current rapidly developing economy, it seems that people have the feeling of weightlessness, of psychological struggle, pain, loss and trauma, while his two works of "Skin" series expressed the psychology of people.
Portrait painting once had the function like that of photography in history, but with the advent of photography, portrait painting gradually declined and increasingly lost its original meaning. Although the "re-portrait" creation uses some forms of the traditional portrait art in expressing the character, it has some new reforms and developments. Different from the traditional portrait art that is only in pursuit of a character or some, it pursues the expression of one concept or proposition, which is the start of the performance. Through the "portrait", we see not only the appearances and spirits of modern people, but also the characteristics of the era.
Curator Lu Hong said it was impossible to gain the images and techniques which appeared in the creation of "re-portrait" according to the creative method of classical art. To a large extent, it was from video, networking, popular culture or non-artistic fields. The forms of the image in contemporary art (including the creation of "re-portrait") not only completely transcended the previous artistic image form, but also carried a new creative methodology, new theme, new form and new values, so we had to carefully study it.
The exhibition will last until February 23, 2014.
Photo Courtesy of the artists and Hubei Museum of Art.
Translated by Chen Peihua and edited by Sue/CAFA ART INFO.
Related posts: