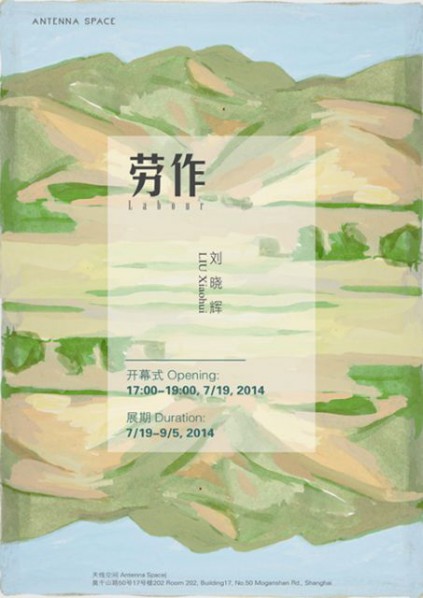 Antenna Space is privileged to announce Liu Xiaohui's new solo exhibition: Labour
Generally speaking, Liu's works carry touches of a literary work: young couple traveling, scenery on the way to work and even daily trivial scenes are all his subjects. Not being exactly realist nor expressionistic, Liu combines the use of tempera with graphic design in an unadorned way, and thus convey through his works a sense of literature with mild touches. Sketching in nature is the way Liu used to complete "Labour" series. This habit of creation is developed during his career as a teacher and then as an artist. In "A Corner in the Factory" series, Liu's job includes not only painting, but also material gathering. He self-made some coarse but unique picture frames by polishing and piecing together wasted wooden materials which could be found everywhere in the timber mill. Liu's attitude to labour is as simple as "I work like the workers." The production of the plaster base for tempera includes larger amount of repetitive brushing and polishing. And this is how Liu defines his painting as a positive and digestive labour.
Labour is a series of actions with clear intention: there is no useless labour, nor there is any flashy showoff. The artist's understanding of painting is quite similar with the former. Liu created at least six paintings out of a worker, who bent down polishing a wooden toy horse and who acts as a pure symbol for labour. The same is going on with the plowing man, the exploring man, the man at rest and the carpenter – they all carry clear images with momentary meaning. Labour is also a special way of thinking, connecting one's body and brain, which is situational and empirical. Liu once captured a scene where workers in a timber mill were using high pressure pumps to help each other blow off the wooden crust and dusts sticking on their clothes. Such deed is interesting and full of humanity. The images could be quite confusing for a person with less manual labour experience. Liu's Labour series are simple yet obstructive.
Labour consists of works of two sizes. While smaller ones could be taken in one hand, the larger ones are no bigger than a paint box or a suitcase. Liu's trust for his own hands as well as his consideration for convenience, is just like the thinking of a farmer or that of a skilled worker. The Labour series is one of the most typical demonstrations of Liu's method of creation: thoroughly and repetitively depicting one object or situation from various angles and timing, raising a concept of "density" of art. He keeps a vigilant eye on extreme expression. As a result he cut down on techniques and constrains large-scale movements of the objects in the painting, adding restrictions to the repetition. In Labour series, Liu discovered a universal way of measuring art, which is to figure out the "density".
About the exhibition
Dates: Jul 19, 2014 – Sep 5, 2014
Opening: Jul 19, 2014, 17:00, Saturday
Venue: Antenna Space
Courtesy of the artist and Antenna Space.
Related posts: