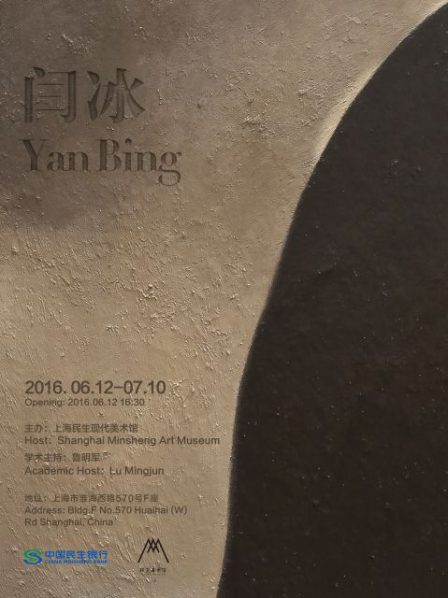 Shanghai Minsheng Art Museum is pleased to present Yan Bing, solo exhibition of artist Yan Bing. With Lu Mingjun, curator, critic and associate professor at the Fine Art College of Sichuan University, taking the role as academic moderator, the exhibition will be open on June 12, 2016, and it features over 50 paintings and installations by the artist.
As one of the most active emerging artists in China, Yan Bing is known for his ingenious use of ordinary, even mundane and rough materials. What lies underneath the surface of the ordinary is the warmth and depth of his perception towards life. Emotions revealed in Yan's works are complicated: the longing for simplicity and plainness in mixed with speculative contemplation and joyful bitterness. Overwhelmed by a sense of "classic aesthetics", Yan's work radiates insightful reflection upon and exploration into individual experience in the contemporary context.
The exhibition features works produced by Yan Bing from 2011 till now, including early works such as Box, Earth and Mirror, The Weight of Pain and Love as well as new works produced in 2016. Half of the exhibits are put on display for the first time, casting new light on the evolution of the artist's practice. By mixing everyday objects with his own individual experience, he manages to imbue them with the passion for exploring further on the spiritual level. In his work, emotion plays the role as both the trigger and the driving force for his artistic exploration; nevertheless, the artist in the meantime also strives to conceal all the emotions behind the works. The days he spent laboring in the field have a lingering influence on him, leading to the fact that mud, farm tools and crops like wheat and potato are featured in his work as key images and concepts. More than a simple appropriation of ready-mades, Yan Bing's approach endeavors to achieve a kind of transformation in the form and reconstruction in the aesthetic sense. It could even be said that his "do-it-yourself" approach in itself reflects certain experience and concepts. Through the mobilization the physical properties of materials, he manages to construct a new vision and spatial field. The distance between such and the reality implants his work with a strong sense of ritual as well as monumental nature.
While trying to cast light on the sacred root of the nature and the homeland, Yan Bing's work also inspires a kind of new nature and sacredness from within art and the contemporary context in which art is embedded. His action and reflection lure audience to perceive and get in touch with the world and its natural properties – or in his own words, its sexiness, restrainedness, harmony and sacredness – in a new light.
The exhibition will remain on view through July 10.
About the exhibition
Date: June 12, 2016 – July 10, 2016
Venue: Minsheng Art Museum
Courtesy of the artist and Shanghai Minsheng Art Museum, for further information please visit www.minshengart.com.
Related posts: