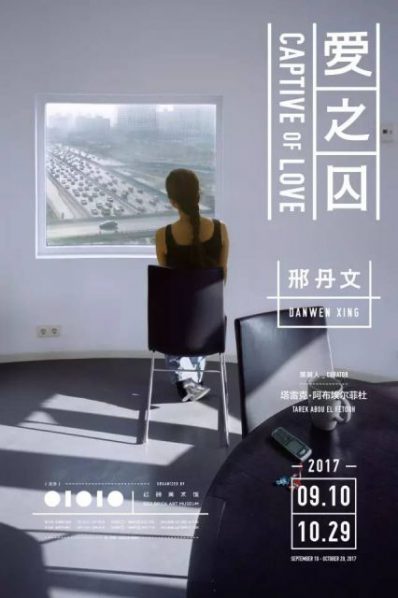 Red Brick Art Museum
is pleased to present Xing Danwen's first substantial solo show in China from 10 September to 29 October 2017. This is her largest solo exhibition to date, presenting photography, installation, and video pieces, as well as new productions to be exhibited for the first time.
Xing Danwen's exhibition "Captive of Love" focuses on her relationship to the city, as well as a personal narrative of her own generation in China in the 1990s. The title of the exhibition is the English translation of Un Captif Amoureux, the title of the last book by French poet and writer Jean Genet on the Palestinian revolution and the Black Panther movement. Genet always questioned society and was drawn to rebellions. The book describes his experience of living among Palestinian and Black Panther activists "in [his] own chosen order" and unique narrative style, creating an exceptionally poetic and insightful text.
The exhibition recalls several threads from Jean Genet's book, which provide a prism for a special reading of Xing's artistic practice; in every image she creates, Xing reconstructs reality, as if driven by a compulsive desire to be at the center of the incident, approaching her characters with a marked sensuality. Through photographs, installations, and videos, Xing positions herself inside the event as a subject, a model, or a critical eye, creating a visual language that is both subversive and poetic.
About the artist
Xing Danwen was born in Xi'an and currently lives and works in Beijing. She has received BFA degree at the Central Academy of Fine Arts in Beijing and MFA at the School of Visual Arts in New York. Xing has participated in numerous exhibitions at major museums and biennials worldwide, including shows at the Whitney Museum of American Art, the Metropolitan Museum of Art, the International Center of Photography, the Centre Pompidou, the Victoria and Albert Museum, the Yokohama Triennial, and the Sydney Biennale. Xing's artistic practice is well-regarded by international critics and institutions, and her work has been acquired by museums and private collections such as the Metropolitan Museum of Art, the International Center of Photography (ICP), the J. Paul Getty Museum, the San Francisco Museum of Modern Art (SFMoMA), the Centre Pompidou, the Singapore Art Museum, the Uli Sigg collection, and UBS.
About the curator
"Captive of Love" is curated by Tarek Abou El Fetouh, who has researched the Chinese art scene since 2011 and presented many Chinese artists in his exhibitions around the world. His curatorial projects include the Sharjah Biennale in Sharjah in 2009, "Home Works 6" in Beirut in 2013 (named in Art Forum's Top Ten of 2013 lists), "Lest the Two Seas Meet" at MoMA Warsaw in 2015, and "The Time is Out of Joint" in Sharjah and Gwangju in 2016.
About the exhibition
Organized by: Red Brick Art Museum
Artist: Danwen Xing
Curator: Tarek Abou El Fetouh
Exhibition Date: September 10 – October 29, 2017
Address: Red Brick Art Museum, Shunbai Road, Chaoyang District, Beijing
Related posts: