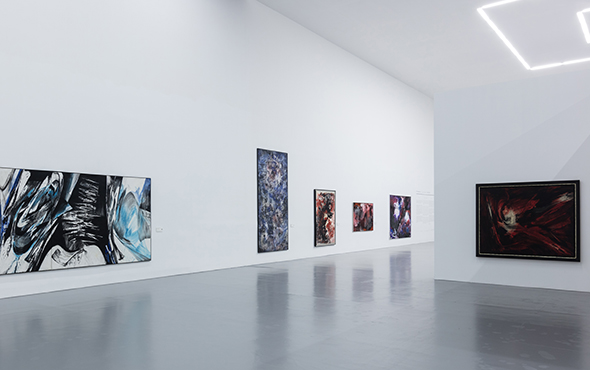 From September 16 to October 22, Red Brick Art Museum presents Prologue – German Informel Art. This exhibition is an important part of Deutschland 8 – Deutsche Kunst in China, with Fan Di'an and Walter Smerling as the general curators and Yan Shijie, director of Red Brick Art Museum, as a deputy general curator. Prologue – German Informel Art focuses on the common traits of Informel, post-war Germany's most important abstract art group, and the different explorations and choices these artists made as they confronted their personal artistic ideals. The participating artists are the initiators and most important members of the Informel movement, but they are also key representatives of post-war German art. These artists sought expression far beyond the traditional rules and conventions. Particularly in the Rhineland region, artists such as Peter Brüning, K.O. Götz, Gerhard Hoehme, Bernard Schultze, and Emil Schumacher underscored their aesthetic affinity with contemporary art in Paris by their commitment to abstraction. Only Fred Thieler in Berlin, with his residential propensity for realism, became a lone warrior.
Fan Di'an, the chief curator of the exhibition and President of the Central Academy of Fine Arts mentioned in his opening speech that this project offered eight kinds of various cultural experiences through exhibitions and forums, reflecting the broad dimension between the Chinese art and German art while there's little comprehension about Informel Art in china, this exhibition held in Red Art Museum provides a rare opportunity for the audience to confront with it. Walter Smerling further explains Informel Art as the German constitution ensures the freedom in art, culture, science, education, and art and public display actually construct an "ego", which constitutes an important part of self-position; six artists included in this exhibition have found such a kind of cultural self-confidence. Their creative ideas are quite simple as they try to rely on coincidence, through their own ways of work to construct an open dialogue mode, that's the reason why Informel Art was so important. Yan Shijie felt glad that these works could be presented at Red Art Museum as he thought that Informel Art was the freedom released from burdens and it is the spiritual wealth of the world. Those artists escaped from the realism and they have freely sought after the nature, structure of abstract art and their works were embodied with poetic expressions.
The fundamental concept of Informel painting in Germany and Tachism in France liberated the artist from all the influences of his environment. Intellectually and emotionally inflected working methods facilitated the production of immediate, joyful, and positive images, which were able to be read and understood worldwide without any knowledge of iconography. In 1950s Germany, fierce philosophical and sociological debates were conducted on the position of art. Where does the freedom of art stand following the diktat of heroism and the degenerate art of the National Socialist era? Should artists liberate themselves from the reality of their surroundings or should they give an account of the world in realistic images? During this time, many painters abandoned any notions of realistic art at an early stage, and turned to abstraction. Informel art in Germany was born.
Prologue – German Informel Art presents classic works by these six artists, made at different times from the 1950s to the year 2000. These works from the 1950s and 1960s are rare early pieces by German artists who threw themselves into active abstract painting, reflecting the influence of international Art Informel. The show highlights the highly personal, autonomous visual language of every one of these artists. By introducing texts, cartographic symbols, and all manner of objects, painters in the 1970s endeavored to transform abstraction into a more thematically focused and critical narrative. Brüning and Hoehme, both professors at the Düsseldorf Art Academy, were pioneers of this new dialogue. Even at an early stage, the Cologne-based Bernard Schultze would insert small, concealed allusions to reality in his art, ie. in the so-called Migofs. Götz, Schumacher, and Thieler remained loyal to abstraction.
Red Brick Art Museum wishes Chinese audiences to see that, after the artist behind the easel was effaced, these highly recognizable works, both art historically and in their own time, can be read like a visual philosophy of abstraction. We hope that the public will gain a clearer understanding of the development of German abstract art and its long-standing influence on post-war German art.
Text by Red Brick Art Museum and Zhang Wenzhi, edited by Sue/CAFA ART INFO
Photo by Red Brick Art Museum
About the exhibition
General Curators: Fan Di'an, Walter Smerling
Deputy General Curator: Yan Shijie
Organizers: Stiftung für Kunst und Kultur e.V., Central Academy of Fine Arts
Artists: Peter Brüning, K.O. Götz, Gerhard Hoehme, Bernard Schultze, Emil Schumacher, Fred Thieler
Dates: September 16 – October 22 2017
Opening: September 16 2017, 17:00
Venue: Red Brick Art Museum
Organized by: Red Brick Art Museum
Supported by: Foreign Office of the Federal Republic of Germany, Embassy of the People's Republic of China in the Federal Republic of Germany
Related posts: