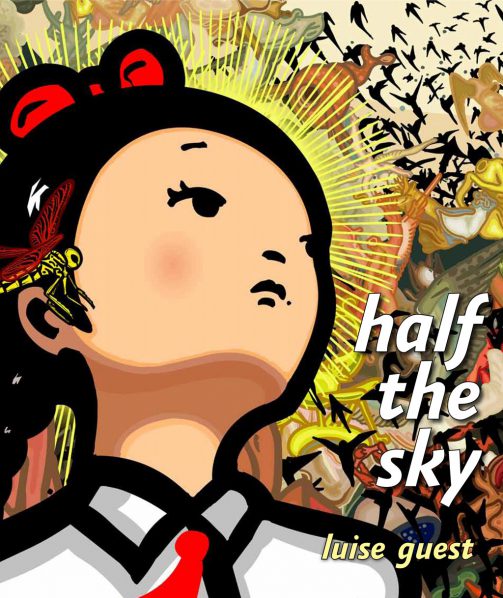 Half the Sky – Chinese Women Artists
It was Mao Zedong who said, 'Women hold up half the sky'.
An exhibition of works by more than 15 artists from mainland China reveals a group of diverse women doing just that. Unusually, the exhibition emerged from the publication of a book, 'Half the Sky: Conversations with Women Artists in China'. Released in Sydney by Piper Press in February, it's based on Australian art writer Luise Guest's conversations with more than 30 artists, in Beijing, Shanghai and Hangzhou. Now, audiences in Beijing have an opportunity to discover a number of the artists featured in the book.
In travels to China over five years, Guest began to notice a surprising absence of work by women in galleries. She says, 'Despite the continued international fascination with Chinese contemporary art, manifested in so many curated exhibitions, catalogues, books and articles, there were important stories as yet insufficiently told: the stories of women artists. I wanted to make the work of these artists accessible to a wider audience, and to provide a space for them to talk about their lives and their art practice.'
From those artists, now in their 50s, who emerged in the tumultuous period of Reform and Opening, to a generation born in the 1980s, influenced by popular culture and increasing consumerism, to a rising generation of much younger artists coming to adulthood in a completely transformed China, the artists featured in the book and exhibition are all completely at home in a post-internet international art world. Yet all are conscious of how Chinese history and tradition inform their thinking.
The exhibition that accompanies the launch of the book in Beijing reveals the diversity of these artists, as well as the deep connections between them. Whether they work in painting or video, digital media or sculpture, each is engaged on a personal quest to invent and develop a visual language with which to convey the complex social realities of today's China. Now that the tropes of Pop-inspired Mao imagery seem tired, it is time for their voices to be heard, and their work to be seen more widely.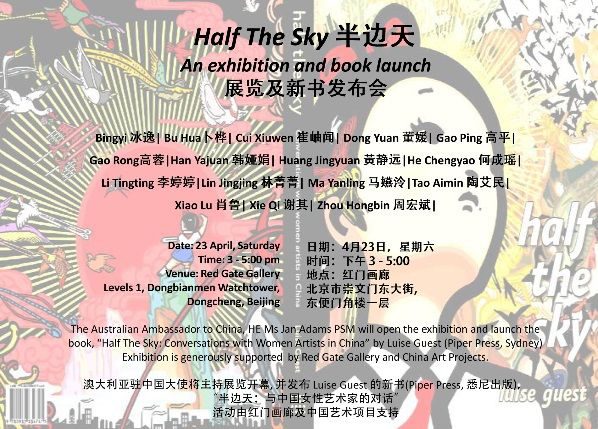 About the Book:
Half the Sky: Conversations with Women Artists in China
A gorgeous new publication on contemporary women artists in China from Australian art publisher Piper Press and author Luise Guest, Director of Education and Research, White Rabbit Collection. Guest travelled many times to China to research and interview the thirty-two women artists presented in Half the Sky & believes 'contemporary art in China is unlike anything in the rest of the world.' The dynamic artistic centres of China are producing some of the most interesting and compelling contemporary art of our time but there are fascinating stories as yet insufficiently told: the stories of women artists. It was Chairman Mao who said, 'Women hold up half the sky.' This book reveals the work and lives of thirty-two artists who are doing just that.
About the Curator and the Author:
Art teacher, writer, researcher, and bad student of Chinese, Luise Guest writes regularly about contemporary Chinese art. Her blog, An Art Teacher in China, documents her adventures in the Middle Kingdom. Her articles and interviews have been published in a range of online and print art journals and web sites including Creative Asia, Daily Serving, Randian, The Art Life, The Culture Trip and the Journal of Contemporary Chinese Art.
Apr, 2016
About the exhibition
Date: April 23 – May 6, 2016
Opening: April 23, 2016, 15:00
Venue: Red Gate Gallery
Artists: Bing Yi, Bu Hua, Cui Xiuwen, Dong Yuan, Gao Rong, Gao Ping, Han Yajuan, He Chengyao, Huang Jingyuan, Li Tingting, Lin Jingjing, Ma Yanling, Tao Aimin, Xiao Lu, Xie Qi, Zhou Hongbin
Courtesy of th artists and Red Gate Gallery, for further information please visit www.redgategallery.com.
Related posts: