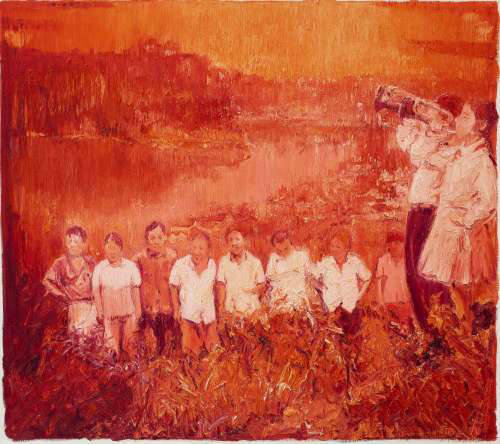 Artist Statement
My recent work is about a return to nature, which takes the form of a couple of fruit trees or a mountain. I feel that only by being in nature will one feel extremely peaceful; where one can find a serenity that emanates from the inner self. It is a place free of slogans and there is nothing to fathom. By returning to this boundless inner sanctum, one can access a life force. Perhaps it is only that for me? I feel closer to myself as I channel this internal energy into my painting.
Preface
Red Gate Gallery is pleased to present Chen Ke's first solo show of oil paintings. Chen was nominated by Wang Yuping as part of the Two Generations exhibition celebrating Red Gate's 20th Anniversary in 2011, which is now touring Australia.
Chen's rich red paintings describe the utopia of the late 50's and early 60s when the republic was emerging from the revolution and building a New China. Everyone was pulling together, everyone was equal and everyone thought the future was bright, and Red. This nostalgia for the simpler times is in stark contrast to the China of today, which is anything but united or equal. The future may still be bright, but who knows which colors will be used to paint the future canvases of Chen Ke.
Chen Ke is a Beijing-based artist who is inspired by old photographs of the bygone Mao era. Using impasto technique, under Chen's palette knife the nostalgic black and white prints become flaming contemporary scenes which appear teleported from the revolutionary years of the 1950s and 1960s to the present. There has been a sentimental revival of the Mao era in recent years in reaction to the economic boom. Chen represents a generation which spent part of its childhood growing up under the Mao regime but were not traumatised by social upheavals like the Cultural Revolution. For Chen, the Mao era represents a certain innocence where life was simple and as everyone was poor, it was a fairly egalitarian society. For artists of Chen's generation there is perhaps a need to reconcile the conflicting ideologies that marked their childhood and adulthood. Chen's art could be seen as a testament to this psyche.
About the Exhibition
Duration: April 28th–June 3rd
Gallery Hours: 9 am – 5 pm Everyday
Venue: Red Gate Gallery
Address: Levels 1 & 4, Dongbianmen Watchtower, Dongcheng, Beijing
Tel/ Fax: (86 10) 6525 1005
Courtesy of Chen Ke and Red Gate Gallery, for further information please visit www.redgategallery.com.
Related posts: