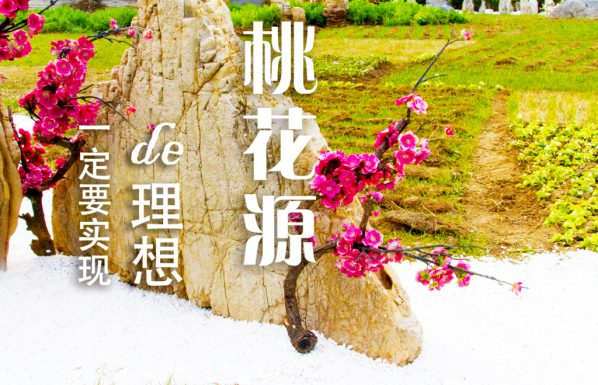 The Prefect sent some attendants to follow his way and marked the direction. Then they lost their way and they could not find it again.

"The Communist must be realized!"

Xu Bing: "The ideal Utopia must be achieved."
Two thousand years ago, when a Wuling inhabitant went out fishing but he stumbled on an exceptionally wonderful paradise, with fertile fields and beautiful ponds, a crisscross of paths in fields, while sounds of crowing birds and barking dogs were heard all around. However when he went to visit it again he "could not find the way again." Peach Blossom Spring has remained a mystery in Chinese culture for hundreds of years, which has become the image of the ideal state of a better life for people. The tide of the modern revolution took place a century ago, the Communists issued a cry that "The Communist must be realized!" to achieve a harmony for human beings. Three years ago, the artist Xu Bing used this cultural allusion in his large outdoor installations in the UK, Travelling to the Wonderland, mapping out people's reflection on modern civilization.
May 28, 2016, co-organized by Beautiful Asset (abbr. BA), Xu Bing studio, Unrestrained Art Makers, Beijing Olympic Water Park, Beijing Jing Ende Kai Investment Management Company Limited, the work was unveiled in the Beijing Olympic Water Park, which was its first exhibition in China after it has been exhibited at the Victoria and Albert Museum (V & A) and Chatsworth House.
The dream-like landscape of Travelling to the Wonderland was inspired by the classic Chinese fable "Tao Hua Yuan" ("Peach Blossom Spring") written by the scholar Tao Qian in AD421. To reproduce Tao Qian's utopia, Xu Bing has created hundreds of ceramic objects and collected mountain rocks from five different regions in China to reflect the specific characteristics of their regional identities, their features correspond to (or reflect) the typical styles of Chinese ancient landscape paintings, revealing the source of inner beauty of Chinese landscape painting. Rocks are all formed as a flat shape, with which the artist intends to create a "two-dimensional and a half" effect between painting and reality, in Xu Bing's own words, he wants to make use of a less standard, grotesque form of contemporary art to explore the expressive style of the Chinese cultural core, and in which he entrusts his ideal, creating an utopia and imagining himself entering into an ideal situation. Among the rocks, all the houses, pavilions, hermits, and animals are made of ceramic, they have all gone though Jingdezhen firing, under the fog, light against the background shows a series of landscape with idealism, to create a literati charm, but it also adds the dreamy fun of touring, triggering a resonance with the audience for a better life. When the work was exhibited in the United Kingdom, the central part of the work was a pool of water, which constituted one of the motives Xu Bing produced in this work, but it cannot be achieved at the Beijing Olympic Water Park so the artist has changed the pool of water into fertile farmland, various environments bring different feelings to this work, since the traditional Chinese culture is based on the natural economy of agriculture, it further accords with China's cultural context.
Xu Bing spoke of "paradise" and "must be achieved" these two allusionsare combined to produce a linguistic and conceptual paradox, but it also constituted a visual tension stimulating our thinking, reminding us of what kind of relationship lies between the ideal and the reality of our efforts. As a matter of fact, currently the vast majority of people are dissatisfied with their living conditions, but they also seem to be further and further from their own ideal. After the end of the Cold War when the Berlin Wall fell, our world has not become better, as immigration, war, conflicts continuously happen, while the conflict between original values and integration of a strong capitalist system has become the core of human conflict. Travelling to the Wonderland must be implemented in the context of today's society, the firmness of "must be achieved," embodies a strong sense of metaphor and irony, because it is too difficult or impossible to be achieved, that's why the shouting "must be achieved" exist. The pursuit of human beings for a more ideal environment, in fact, is further and further away from the ideal, even further from what "must be achieved."
CEO of Beautiful Asset Dong Yi thought this piece is like "solid prose", full of idealism, delicate and intriguing. This piece of work has a special meaning for today's China, everyone has a notion of paradise in his heart, but it is difficult to have the courage to walk on the road towards fulfilling it. In this era the lack of ideals, he hopes this work on display can restart a journey looking for the ideal of "paradise" to inspire people to reflect on modern civilization.
The exhibition will remain on view until October 20.
Text and photo by Zhang Wenzhi, translated and edited by Sue/CAFA ART INFO
Related posts: