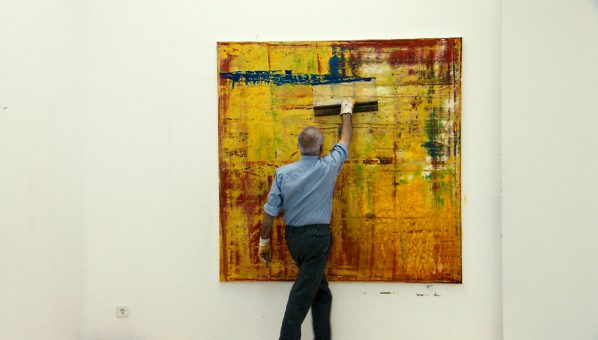 This exhibition presents eight German films from the permanent collection of the Goethe-Institut Hong Kong. These works feature world-renowned German artists, including Joseph Beuys (1921-1986), Christoph Schlingensief (1960-2010), Otto Piene (1928-2014), Lutz Dammbeck (1928-), Jörg Immendorff (1945-2007), Gerhard Richter (1932-), Bernd (1931-2007) and Hilla Becher (1934-2015) , and Ulrike Ottinger (1942-). Despite the difference in media, artistic concepts, and means of expression, they exemplified a generation of collective endeavor to rethink the role of art and artists in the reflection upon and response to the social condition of postwar Germany.
The films were made at various stages of artists' lives. Some captured live actions of artists at work in and out of their studios, while others retraced the trajectory of their artistic development, weaving personal interviews with archival footages. The production teams worked closely with the artists and recorded their everyday life and creative process. The result is a series of lively portraits presented in filmic form.
In their 1934 Legend, Myth, and Magic in the Image of Artist, the Austrian art historians Ernst Kris and Otto Kurz unpicked narrative tropes and models prevalent in premodern writings of artist biographies. The collective perception of artist, they contend, is always mediated by the writing and transmission of stories and legends. From this perspective, the reexamination of the notion of artist in modern art history paralleled avant-garde redefinitions of artist's role in the active transformation of modern society. The myth of artists who, as extraordinary individuals, depict the objective reality and delve deep into the collective psyche has since been profoundly challenged. With the image of artist constantly constructed and deconstructed, the tyranny of capital and marketization threatens to dissolve the actual momentum of artistic practices in their exploration of a true vision of the world and humanity. The social perception of contemporary artists has lost its steady focus.
If revisiting premodern lives of artists helps to clarify a historical understanding of their images, the close observation of the cinematic lens serves as a perfect medium for our interrogation of their fate in the contemporary world. The exhibition invites the audience to witness the intellectual formation and personal genealogies of individual artists during a critical period of historical and cultural change in Germany. Their struggle to reclaim their identity and position as artists provides important reference for our reinterpretation of many artists' legends to come.
James Hu
Film Synopsis
Joseph Beuys – Everyone is an Artist
Director: Werner Krüger, color, 57 minutes, 1979
Joseph Beuys (1921-1986) is one of the most important postwar German artists. "Everyone is an Artist" is not only his motto, but also declares his position on art and philosophy. Through a combination of documentation of Beuys' happenings, witness accounts, news reports, and numerous recordings, the director Werner Krüger presents multiple angles into the artist's life and work.
Crackle of Time – Christoph Schlingensief and His Opera Village in Burkina Faso
Director: Sibylle Dahrendorf, color, 108 minutes, 2012
Despite his illness, Christoph Schlingensief (1960-2010) traveled frequently between Africa and Germany to carry out his most important project: the Opera Village (located in Burkina Faso), a place combining life and art. Crackle of Time tells the story of an impossible mission, chronicling the period from the initial location search in May 2009 to the eventual opening of the school in October 2011. The documentary takes us up close to Christoph Schlingensief and allows us to experience the painstaking endeavor through his own perspective. While Schlingensief passed away in August 2010, his vision lives on.
Otto Piene – From Zero to the Rainbow
Director: Hans Emmerling, color, 45 minutes, 1975
The works of Otto Piene, a key new media artist, constantly harnessed the elemental forces of light, air, smoke, and fire and explored the potential of kinetic movement and spatial experience. He called his works "Sky Art" and "Land Art" and publicly performed them. He also coined other neologisms for his practice, such as "light theatre", "light ballet", "fire picture", "smoke painting" etc. Piene's works created immersive environment for their audience. His best-known work is the large-scale installation Olympic Rainbow, made for the closing ceremony of the 1972 Summer Olympics in Munich.
The Cave of Hercules
Director: Lutz Dammbeck, color, 20 minutes (abridgement from the origin 45-minute version), 1988-1989
Lutz Dammbeck's (1928-) work focuses on filmmaking, media collage, installation and writing. The mythological figure of Hercules is the inspiration for this experimental visual montage.
The Ape and I – Jörg Immendorff
Director: Rainer Ostendorf, color, 44 minutes, 1988
Jörg Immendorff (1945-2007), a pupil of Joseph Beuys, is a famous contemporary German artist. His politically charged works explored the role of art in society and history. The film shows Immendorff over a period of several weeks working on the large-scale painting The Lehmbruck Saga.
Gerhard Richter Painting
Director: Corinna Belz, color, 101 minutes, 2009-2011
The artist Gerhard Richter (1932-) is a key representative of German contemporary art. During the 1970s when conceptual art gained prominence and the demise of painting was felt and lamented everywhere, Richter opened up a new path for painting. By an exceptional stroke of luck, the filmmaker Corinna Belz was invited to observe the painter at work in his studio, and documented the working process of a series of paintings by Richter.
The Photographers Bernd and Hilla Becher
Director: Marianne Kapfer, color and black and white, 90 minutes, 2010
Blast furnaces, wind towers, processing plants, such are the countless sites of industrial structures captured by the artist duo Bernd (1931-2007) and Hilla Becher (1934-2015) through their photography. In the film, the Düsseldorf couple talked about their lives, works and artistic concepts. Their documentation of industrial architecture had lasted for 40 years when the film was made.
Ulrike Ottinger – Nomad from the Lake
Director: Brigitte Kramer, color, 86 minutes, 2011-2012
From the 1970s onwards, Ulrike Ottinger (1942-) created the most original series of avant-garde films in the history of German cinema. The director of this film Brigitte Kramer, like the artist, is a native of the Lake Constance, Germany. She traced Ottinger's various journeys to Mongolia, China, South Korea, and Japan. Works created during these trips were displayed on the large retrospective "Floating Food" held at the Haus der Kulturen der Welt in Berlin. Apart from personal interviews, the film also features views and comments on the artist and her works by film historian Ulrich Gregor and actor Irm Hermann.
Courtesy of OCAT Institute, Beijing.
Related posts: