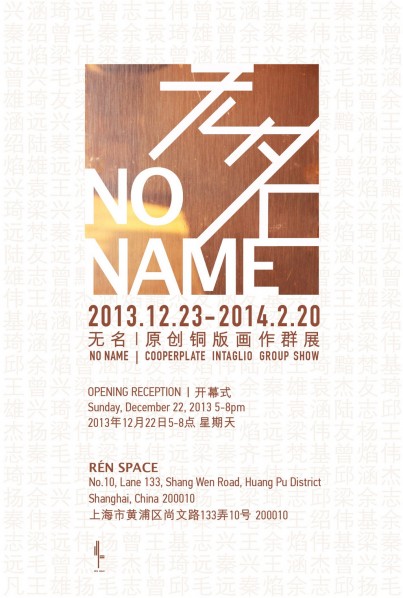 This exhibition includes newly commissioned, limited edition works by a group of contemporary Chinese artists who vary in their stages of artistic development and career. Each of these artists has begun with the same materials: a simple copper plate and a nail provided by Ren Space. Using these materials, they have created prints using the technique known as Intaglio. (Intaglio is a traditional printing technique in which an image is created by cutting, carving or engraving into a flat surface. This method was much appreciated and favored by wide Western masters including Rembrandt, Durer, and Picasso.)
All works will be displayed anonymously during the exhibition. Only the work title and the basic information will be presented and the identity of the artist will be announced at later date. We ask the viewers and the collectors to forego of any presumptions and bias of names and legacies associated with the artists. With the absence of pre-disposed notion of artwork by a particular artist, they must simply trust their own appreciation of visual language provided by the artist.
This exhibition invites the viewer to question the current complex relationship between art collection and consumption, and to examine the dynamic relationships between Art collectors' perception and intrinsic value of art. Almost a century ago, Paul Klee was quoted "Art does not reproduce the visible; rather, it makes visible." Then the natural question for the collectors is: which of the works stirs you? which of the works makes the invisible visible to you?
About Ren Space
Anchored in the old town neighborhood of Shanghai, Ren Space is an arts space committed to an international cross-disciplinary program of artist and curatorial residencies, exhibitions, workshop and talks. Ren Space serves as a platform and laboratory for exchange between the vibrant artists and organizations of Shanghai's rich cultural landscape and their international counterparts who seek to engage in far-reaching dialogue.
About the exhibition
Duration: Dec 23, 2013 – Feb 20, 2014
Opening: Dec 22, 2013, 17:00, Sunday
Address: No.10, Lane 133, Shang Wen Road, Huang Pu District, Shanghai, China
Phone:8621 63462033
Email: inforenspace@gmail.com
Courtesy of the artists and Ren Space.
Related posts: