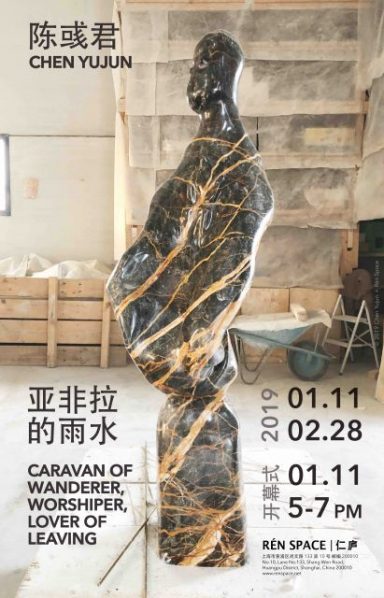 Rén Space announces the opening of Caravan of Wanderer, Worshiper, Lover of Leaving, a Chen Yujun Solo Exhibition on January 11th, 2019.
Chen Yujun's experience of growing up amid a large population of returned expatriates inspired his previous series, "Map of Asia". In recent years, he has approached his studies of Asia from the perspective of the third world. By grouping our frequently marginalized experience with those of Africa, Asia, and Latin America, the artist seeks to explore the cultural landscape of the third world and the future of "us" from our own and everyday perspective.
Chen Yujun's study of cross-cultural aesthetics, specifically his encounter with different religions, is expressed in figures and animals in his new series of work "Every one of us". The characters and animals in varying shapes are influenced by different cultures and religious traditions. In turn, they are of our "world" and by "us," standing at the margin of our realities and ideals. Through the action of expanding the concept of "self" to "us", a new "us" emerges from this experience: richer identities and a more inclusive belief system. Our common experience is not unlike Caravan of Wanderer, Worshiper, Lover of Leaving. Each and every one of us is a soul facing the sun, and we share the gift of rain and the suffering of darkness in our journeys.
Chen Yujun's 2019 solo exhibition showcases his year-long collaboration with Rén Space. The artist's process utilized the most advanced 3D technology, and they are based on his soft clay works from 2017-18.
About the artist
Chen Yujun, born in 1976, Putian, Fujian Province, graduated from Department of Mixed Media of China Academy of Fine Arts in 1999. From 1999 to 2004, he taught mixed media and oil painting in Chinese Academy of Fine Arts, and he now lives and works in Shanghai. Chen Yujun's works are exhibited widely: his art is collected by Brooklyn Museum (New York), White Rabbit Contemporary Chinese Art Collection (Sydney), M+ Museum of Art (Hong Kong), DSL Collection (France), Yuz Museum (Shanghai), Long Museum (Shanghai), He Xiangning Art Museum (Shenzhen), and Arario Museum (Seoul).
About the exhibition
Dates: Jan 11, 2019 – Feb 28, 2019
Venue: Rén Space
Courtesy of the artist and Rén Space, for further information please visit www.renspace.net.
Related posts: