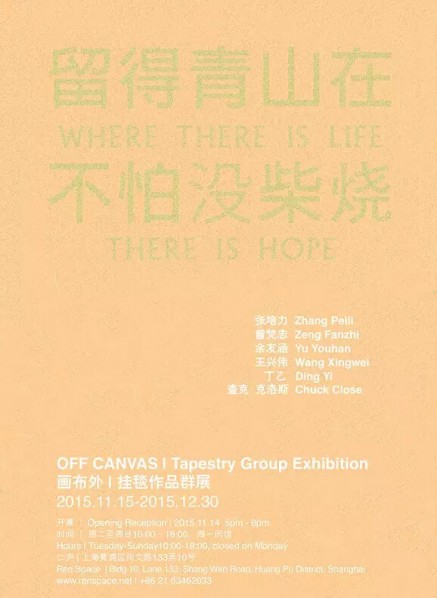 Rén Space proudly presents "OFF CANVAS | Tapestry Group Exhibition" which includes major works by Zhang Peili, Zeng Fanzhi, Yu Youhan, Wang Xingwei, Ding Yi, and Chuck Close. Using the classical medium of tapestry, each artist experiments with abstracted units of colored threads and textures as a point of departure. The exhibition includes distinctive works that offer different visual experience and new approach to tapestry as a medium of their artistic expression. Starting with the digital process of manipulating the weaves, each artist brings his unique method of achieving the exactness of detail, texture, and articulation with either new image or from his signature pieces. Each work embraces the material identity of tapestry in different ways and opens a new way of expression in Chinese contemporary art.
About the exhibition
Date: Nov 15, 2015 – Dec 30, 2015
Opening: Nov 15, 2015, 17:00, Sunday
Venue: Rén Space
Artists: Chuck Close, Ding Yi, Wang Xingwei, Yu Youhan, Zeng Fanzhi, Zhang Peili
Courtesy of the artists and Rén Space.
Related posts: