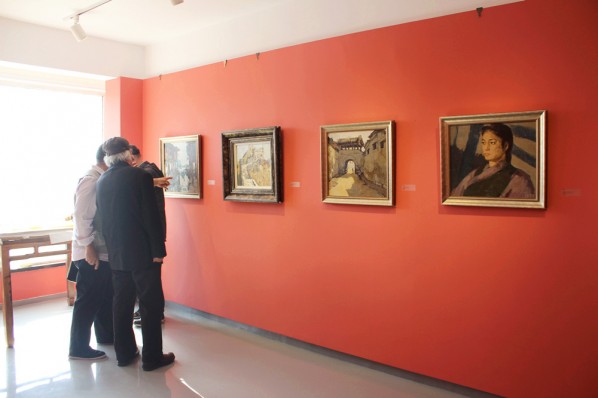 Renowned oil painter Xing Guozhen passed away in Beijing at 13:50, October 13, 2013. To express nostalgia and grief for Xing Guozhen, and arranged by the teachers, relatives and friends of Xing Guozhen during his lifetime, including Li Tianxiang, Zhao Youping, Su Gaoli, Wen Guozhang, etc., Xing Guozhen's posthumous exhibition opened at Beijing Kant Gallery at 10:00 am on October 20, 2013. All of Xing Guozhen's teachers and friends were present at the opening, as it was a reunion and greeting, recalling the past and replaying Xing Guozhen's artistic life.
Xing Guozhen graduated from CAFA in 1956, under the tutelage of Professor Lin Gang who had studied overseas in the Soviet Union, he inherited the essence of Russian art, as a profound artistic achievement. He had always been infiltrated into the study of oil painting color, a combination of inner perception, to create an elegant, rich, simple and quite tasteful personal style, to affect a large number of art lovers of the generation and newcomers. After graduation, he was a designer for a film poster in Beijing Huashi Cinema. At that time the film posters in Huashi were a beautiful landscape in Beijing, anyone that engaged in art knew that Xing Guozhen who came from CAFA, was painting advertising posters, and he became the uncrowned king of the film poster circle in Beijing, he attracted an endless stream of people going to study with him, and was an unknown art educator in Beijing, with many disciples and followers.
Xing Guozhen had a diligent life, dedicating his life to the pursuit of art, was highly praised by his teachers and classmates. Hearing the bad news of Xing, Li Tianxiang of an advanced age wrote a preface for the exhibition, recalling Xing Guozhen, he said: "I respect his upright, his lofty ideals, his faithful belief to create the high aesthetic artworks for people."
Most of the sketches of oil painting by Xing Guozhen over the years were on display at the exhibition, including paintings of landscape, figures, still life, where Xing had dedicated his lifetime to creation using his love of life and persistent pursuit of beauty. Many of his works are small, subtle and delicate, of stable and calm tones, revealing the rustic character of the older generation of artists.
Zhao Youping introduced, Xing Guozhen as one of the generation of students who were heavily influenced by the painting tradition in the Soviet Union. It was because he adhered to the realism painting tradition of the Soviet Union that his artworks still preserve a warm, friendly, personalized feeling. In addition, he insisted on painting, facing life, maintaining his own character in the face of adversity, formation of his own color system, which achieved a high degree of harmony and unit of color on the screen which had a wealth of local variations. Grasping the law, he refined his own stability and special extreme, which was "Unchanging law, changing way." Each of Xing's paintings carry a quiet beauty, after adjusting colors again and again, reflection of a high gradation on the screen. His paintings were like the ratio of Chinese medicine, like a symphony, diversity but unity, which was difficult to gain in oil painting creation. It was very regrettable and unfortunate for him to work in the cinema due to the national distribution, which had limited his development, even if he was of great energy. He was an honest and introverted person, never complained, instead, adapting himself to different circumstances while never giving up, therefore, his paintings are filled with joy, he was happy and satisfied only when he was painting.
The exhibition is on display in the Kant Gallery going through to October 25.
About the exhibition
Exhibition Title: Xing Guozhen's Posthumous Exhibition
Exhibition Dates: October 21 – October 25, 2013
Venue: Kant Gallery, Room 202, Unit 1, No.306, Huadingshijia, Futong Western Street, Wangjing, Beijing
Journalist: Li Fan/CAFA ART INFO, Photo: Li Siyu
Translated by Chen Peihua and edited by Sue/CAFA ART INFO
Related posts: