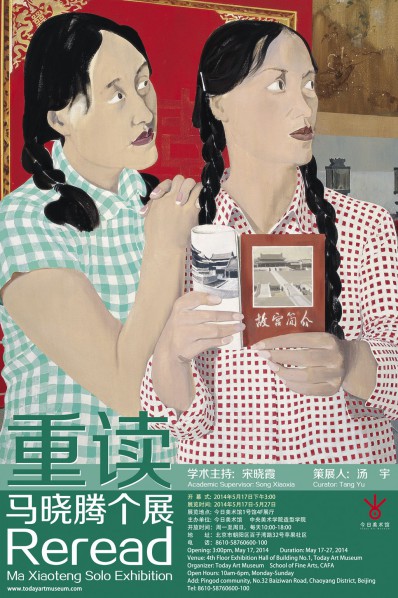 Exhibition Preface
By Tang Yu
The artist demonstrated his own artistic judgment and views on value through finding a personalized linguistic system and possibility, in order to respond to diversified contexts. Ma Xiaoteng, born in Beijing in 1967, graduated and taught in No. 2 Studio of the Department of Oil Painting, CAFA. From his concentration on historical and humanistic spirit in his graduation work The Death of Lu Xun to his demonstration of expressionistic mental structure through figure paintings with the characteristics of language imitation, Ma Xiaoteng, as a Chinese artist, kept questioning how to reflect on the ever-increasing material and cultural life with the diversified spiritual contexts developed in the container of consciousness–art. The interpretation of historical and cultural themes, together with the exploration into expressionistic language, jointly help him in defining and clarifying his own cultural identity and pursuit, as well as finding a personalized way of painting expression in a time featuring increasingly weakened awareness of region and independence of culture.
At the beginning of 2007, he set out with his "Memory Review" series. The serial works neither focus on the collective or popular life style, nor concentrate on political reality. With the landscapes of Beijing from 1970s to 1980s as the narrative carrier, the series combines memory, images and paintings, in order to fulfill a visual research through depicting his confusion, pressure, anxiety and even hurt during the period, with his cognition, resources and methods available in the era. As for the way of expression, he turned to the languages prevailing in traditional ruler painting and new year painting. With colors similar to folk characteristics, he weakened the structure through Ping Tu (even or plain painting), as if he was exploring and studying on Chinese way of painting.
Actually it is a matter of opinion what experience should be selected from the logic of visual culture popular in Chinese society. It can be said that Ma Xiaoteng, under the title of "review," is contemplating over memory and history as an individual, and focusing on topics of sex and power, individual identity and social identification, re-decoration of history with visual observation and expression. Through micro perspective and narrative structure developed by personal visual and conceptual changes, the mental narrations occurred in specific spaces expressed the concerns over the breaking and mending of the link running across Chinese culture.
About the exhibition
Opening time: 3pm, May17, 2014
Duration: 2014.05.17 — 2014.05.27
Location: 4th floor exhibition hall of Building No.1, Today Art Museum
Courtesy of the artist and Today Art Museum, for further information please visit www.todayartmuseum.com.
Related posts: