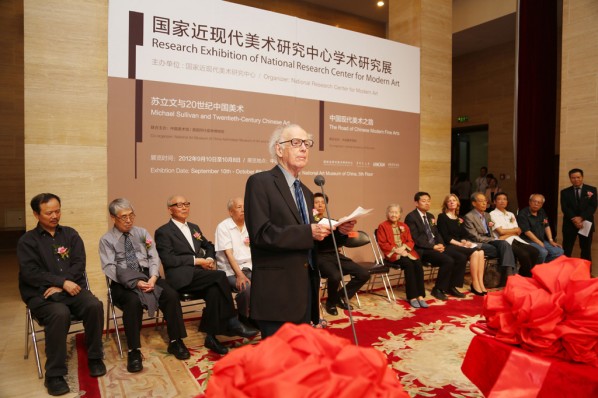 September 10, 2012, the exhibition of "Michael Sullivan and Twentieth-Century Chinese Art| The Road of Chinese Fine Arts" opened at the National Art Museum of China. This exhibition is the first research exhibition launched by the National Research Center established by the Ministry of Culture this spring. It provides a new mode of exhibiting important achievements in modern Chinese Fine Arts Research as made by the academic circle of fine arts in China with art works, manuscripts, documentary files, videos and other forms offering an opportunity for academic exchange and sharing.
The exhibition consists of two projects: "Michael Sullivan and Twentieth-Century Chinese Art" and "The Road of Chinese Fine Arts". As the first western scholar that introduced Chinese modern art to the world, Sullivan was engaged in research on Chinese art for several decades and made crucial academic achievements in the history of art communication between China and western world. "Michael Sullivan and Twentieth-Century Chinese Art" displays the course of his research on Chinese modern art by exhibiting the valuable artworks and archived materials that he had collected. "The Road of Chinese Modern Fine Arts" shows the latest achievements of Pan Gongkai, a famous art historian and the president of Central Academy of Fine Arts of China, in research on the transformation of Chinese modern art and discussion on the theory of the evolution of Chinese modern art. These two parts of the exhibition display the development of Chinese modern art from "inside" and "outside" to inspire innovation in ideas in research and the methods of Chinese modern art.
Photo by Su Manqing/CAFA
Donovan Michael Sullivan (born 1916) is a British art historian and one of the major Western pioneers in the field of modern Chinese art history and critique. Sullivan is a graduate of Rugby School and then in 1939 he graduated in architecture from the University of Cambridge. He was in China from 1940–1946 with the International and Chinese Red Cross followed by a period of teaching and museum work in Chengdu, where he met and married Wu Huan (Khoan), a biologist who gave up her career to work with him. He received a PhD from Harvard University (1952) and a post-doctoral Bollingen Fellowship. He subsequently taught in the University of Singapore, and returned to London in the 1960s to teach at the School of Oriental and African Studies. Then he became Head of the Department of Oriental Art at Stanford University from 1966 to 1984, before settling in the University of Oxford as a Fellow by Special Election at St Catherine's College, Oxford.
The exhibition will last until October 8th.
About the Exhibition
Duration: 10 September—7 October
Venue: Hall 9-11, National Art Museum of China
Sponsor: National Research Center for Modern Art
Organizers: National Art Museum of China, Ashmolean Museum and China Central Academy of Fine Arts
Related posts: