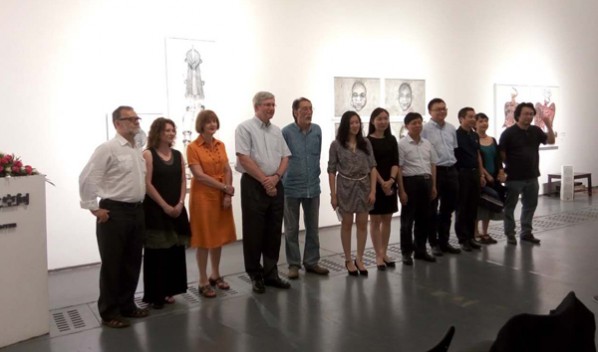 Thirty Canadian printmaking artists show their works in Beijing, China, at the SZ Art Centre in Beijing's 798 Art District from June 28 to July 12. This exhibition, entitled Resonance, is one of many events this year to mark and celebrate the 45th anniversary of diplomatic relations between Canada and China. It is also one of the cultural activities to underline Canada's commitment to 2015-2016 as the Canada-China year of people-to-people and cultural exchange. The exhibition is being held in collaboration with the Embassy of Canada, Hunan Fine Arts Publishing House, and Shengzhi Art Centre.
Curated by Canadian Ms. Jiaqi Wu, Resonance aims to create a meaningful exchange between Canadian printmakers and Chinese art communities. Through the liaison of Mr. Guy Langevin, a Quebec printmaking artist and academic consultant for the exhibition, the 30 contemporary printmakers whose works will be shown come from across Canada and include some of the most important artists working in this field.
A bilingual Mandarin and English publication, also entitled Resonance (approx. 200 pages), is being published by Hunan Fine Arts Publishing House. The book presents the exhibiting artists' works and their biographical information as well as an introduction to Canadian printmaking. More than just a catalogue, Resonance is designed to show a Chinese audience the broad spectrum of contemporary printmaking in Canada.
The Resonance reception took place on June 28, at 16:00, and was introduced by Mr. Guy Saint-­‐Jacques, Ambassador of Canada to China, along with the Shengzhi Art Centre. Two of the artists whose work is featured in the exhibition – Ms. Tracy Templeton and Mr. Guy Langevin – spoke at the launch.
About the exhibition
Duration: 28 June, 2015 — 12 July, 2015
Venue: Beijing SZ Art Center
Courtesy of the artists and Beijing SZ Art Center, for further information please visit Resonance, une exposition d'estampe canadienne à Beijing or www.canadainternational.gc.ca.
Related posts: