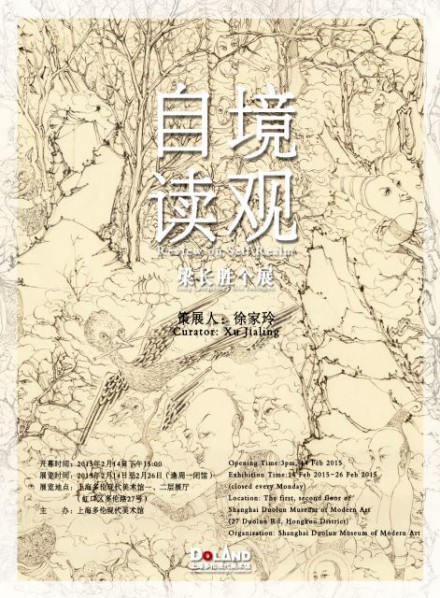 Shanghai Duolun Museum of Modern Art is pleased to announce the opening of Review on Self Realm—Liang Changsheng's Solo Exhibition from February 14, 2015 through February 26, 2015. Works on display include paintings, sculptures and installations Liang Changsheng has created in recent years. The opening ceremony is scheduled to 3pm, February 14.
The main art languages and means of expression of Mr. Liang is line. The installations and sculptures are just the extension of his paintings. The most powerful art is his line drawing. The content expressed in his line drawing is very rich. For example, the explanation on art history, the concern on the reality, the criticism on the society and the imagination on exotic world are mixed in his line drawing, making it full of complicated tension. All of these, related or unrelated, make the painting have a dream-like overlap and disorder.
Magic and reality are combined together in the works of Mr. Liang. He thinks this is what he called Joyblin World and Joyblin Spirit and names the subject of these works Joyblin Heaven. The exotic animals in his works are similar to the those depicted in Shan Hai Jing. What is different is that the exotic animals in his works look good and cute. These ugly animals do not make people have a feeling of fear.
Liang's works start from his dreams, which include both his childhood dreams and the dreams of reality. These two kinds of dreams are overlapped together and compose his Joyblin World, which seems to include everything, people, god, spirit, power, money, and desire. All of these things have the attitude and spirit of Joyblin and make them indifferent to each other. They are just different material forms of Joyblin. So, the Joyblin is the most important art concept of Mr. Liang, and it is also his inner cognition and value system. All of the pictures of Mr. Liang stem from it, extend and reflect it.
About the exhibition
Curator: Xu Jialing
Dates: Feb 14, 2015 – Feb 26, 2015
Opening: Feb 14, 2015, 15:00, Saturday
Venue: Shanghai Duolun Museum of Modern Art
Courtesy of the artist and Shanghai Duolun Museum of Modern Art, for further information please visit www.duolunmoma.org.
Related posts: