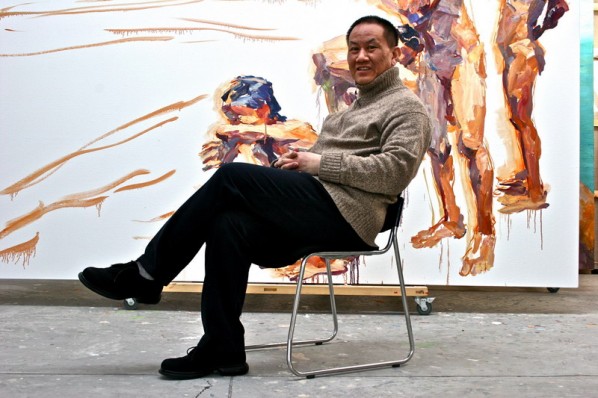 By Yang Feiyun
Dean of the Chinese Academy of Oil Painting
Xie Dongming is a contemporary of mine, as well as my old colleague and old friend. Now he is the head of the 3rd Studio of the Department of Oil Painting, CAFA, an academic title respected highly by the art circle, as well as Director of the Department of Oil Painting and Vice President of the School of Plastic Arts, CAFA. The 3rd Studio was established as early as 1950s by Dong Xiwen, and succeeded and thrived by Zhan Jianjun, which has now been taken over and inherited by Xie Dongming, is an important part of academic research of the Department of Oil Painting, CAFA which stressed the expression of oil painting ever since it was established. As regards other academic features such as the spirit of nationalities and creation of personalities, fostering of a lot of important talented artists and outstanding works with the development of oil painting in China and art education over a long time. It's full of vitality, flourishing today, giving birth to many famous artists such as Hong Ling, Liu Xiaodong, Yu Hong, Zhang Lujiang, Li Songsong. What Xie Dongming pursues as an artist is in consonance with the purpose of the 3rd studio, and he becomes one of the best, deserving to lead the academic study and teaching, and also his social responsibility.
Xie Dongming's art grows during the days of China's reform and opening, because of the fast speed of the economic development and the strong impact of the international tide, there have been dramatic changes in Chinese people' thoughts and cultural environment over 30 years. But while looking back at his artistic trajectory, we find that he has an ability to firmly grasp his direction, thus playing to his talent step by step, which I think, is inseparable from his love of studying painting, and his sincere heart for pursuing art all the time.
Xie Dongming is yearning for healthy paintings filled with strong sun light, his artistic essence is reflected in his works, and he pursues a simple and true spiritual status, looking at the lofty and ethereal sky, a truth temperament that highly integrates man and nature. He runs away from the restless, hustle and bustle of the modern city, and seeks his own spiritual world, and maintains his free and independent thinking as an artist and away from the pollution to his passion for creation. For many years, he was used to travelling a lot, in any case, quickly leaving the most remote and original place, experiencing intensely, and sketching the vast beauty with his brushes. Although most of his themes are on the minorities and remote farmers, he has never considered himself as a painter of peasants. He has constantly expressed the pure blue sky, vast wilderness and warm sunset, and people's most natural activities and labor with the most comfortable postures and looks, in the freshest modern perspective. With passionate color and uncovered large strokes, he repeats the performance of the people, leading a simple, pure, plain, most authentic and happiest life, to which he gives his admiration, deep and powerful praise. Seeing his paintings, I have an exclusive heart to heart offering pleasure and satisfaction, enjoying a kind of comfortable life far away from the material world, touched by all kinds of human laughter from the bottom of their hearts. That's a magical art for the lonely. The place that keeps the feature of natural human and nature is what Xie Dongming is searching for and the source of his creation. It reminds me of an old Hebrew saying: "In repentance and rest is your salvation, in quietness and trust is your strength."
Xie Dongming stresses his writing and expression in realistic paintings, and he always stands when painting, holding large brushes before the big canvas, repeatedly waving his full-of-pigment brushes, with extensive marks swaying towards the four sides, and the images are strong and heavy with the coverage of rapid and wild strokes. He has very strong plastic abilities, by using blocks of saturated and pure brilliant color, and smearing it with fun, just like a farmer working vigorously on his field with the pickax. From the combination of bundles of casual strokes and the inevitable plastic to the features of subjects, to juxtaposed performance, construction and deconstruction, he gets a complicated effect in his works, with emphasis on strong physical expression but not rigid, distinctive stress on spirit and rhyme but not loose, he brings his free-spirited strokes into the objects of firm plastic, to highlight the spirit resonance rather than describe the referred images. In a word, his unique individual style is released by the combination of powerful form and connotation.
Xie Dongming and his art today are in the peak of their best years, with an accumulation of knowledge and experience, he is not only exploring art independently but also an art teacher of social responsibility, and his energy is more comprehensively exerted with the complementary dual identities, I believe that he will have a brilliant future and contribute more to the development of Chinese oil painting in the future.
About Xie Dongming
Xie Dongming, a famous artist of oil painting, was born in Beijing in April 1956, his ancestral home is Ningxiang, Hunan Province. He graduated from the Central Academy of Fine Arts (CAFA) in 1984 with a bachelor's degree, and stayed on to teach in the 3rd Studio of the Department of CAFA at the same year. Currently he is the head of the 3rd Studio of the Department of Oil Painting, CAFA, Professor, Director of the Department of Oil Painting and Vice President of School of Plastic, CAFA.
Related posts: