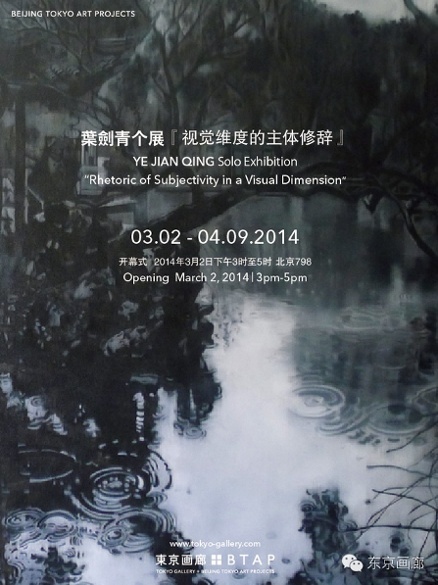 Tokyo Gallery + BTAP (Beijing) will present a solo exhibition by Ye Jianqing: "Rhetoric of Subjectivity in a Visual Dimension". This will showcase Ye Jianqing's work subsequent to his 2010 solo exhibition at China Art Gallery: "Mirror Images of Spirit".
Ye Jianqing was born in 1972 in Ningbo, Zhejiang Province. From 1994 to 2007 he studied in the Mural Department and the Oil Painting Research Program, Central Academy of Fine Arts. In 2007 he received a PhD in Plastic Arts-Oil Painting at the Central Academy of Fine Arts, where he now teaches in the Mural Department.
In works for this exhibition, Ye Jianqing carries on his earlier approach of re-creating pictorial materials. The difference is that this time human figures carrying traces of realism-such as Guanyin or portraits of ancient personages-are banished from the field of vision. In a slightly sere and bracing tonality, the spiritual dimension manifests in a new permutation: "exteriorization" is pointed toward "inward contemplation". Ye Jianqing apparently aims to set up relationality between traditional Chinese landscape painting motifs and vistas of contemporary urban life. The entwining interplay of a park pavilion or grove next to a lake's surface generates a vehicle for spirit's transformations. Reconfigured visual elements of alleys, streets and buildings are fragmented, giving rise to "indeterminacy" with expanding tension between visual form on the painted surface and theoretical implications.
In the past few years Ye Jianqing has been creating a Richter-ian "spectacle in China", which is a conceptual overlapping or suspending of traditional culture together with contemporary visual, imaginal experience.
Expressivity of art language gives way to profound affective receptiveness. Thus a poetic impressibility hides within the grayish color blocks, and free-floating perceptions move about amidst a flux of scenic objects. A delicate, gauzy tactility is roused deep within the viewer. Without a doubt, Ye Jianqing uses his knowledge and painterly language to re-manifest "existence" in these images. Here the ocular mode of "seeing" is only a means of access to an "internal semantic system" whereby the artist confers new intellectual experience upon the spectacle of everydayness. This relies upon what is apprehended rather than upon the eyes, thus rediscovering elusive meanings in the space of spirit.
Beginning from 1960, Tokyo Gallery has exerted itself to promote the "Monoha" school of art. Since establishing the Beijing-Tokyo Art Project (BTAP) in 2002, it has participated in the development of Chinese contemporary art according to serious scholarly principles and operations. In 2013 it proposed the creative vision and premise of "New Morou-ism", in an attempt to sort out and grasp a new theoretical, creative direction in Chinese contemporary art. "Ye Jianqing: Rhetoric of Subjectivity in a Visual Dimension" is one in the "New Morou-ism" exhibition series, and as such it will elucidate and elaborate on this aesthetic theory in a new way.
About the exhibition
Duration: Mar 2 – Apr 9, 2014
Venue: Tokyo Gallery+BTAP – Beijing
Opening: Mar 2, 2014 Sun 15:00
Gallery Hours: Tue – Sun 10:30 – 18:30
Tel: 010-59784838
Add: Ceramics Third Street, 798 Art zone E02, No.4 Jiu Xian Qiao Road, Chao Yang District, Beijing
Courtesy of the artist and Tokyo Gallery+BTAP – Beijing, for further information please visit www.tokyo-gallery.com.
Related posts: