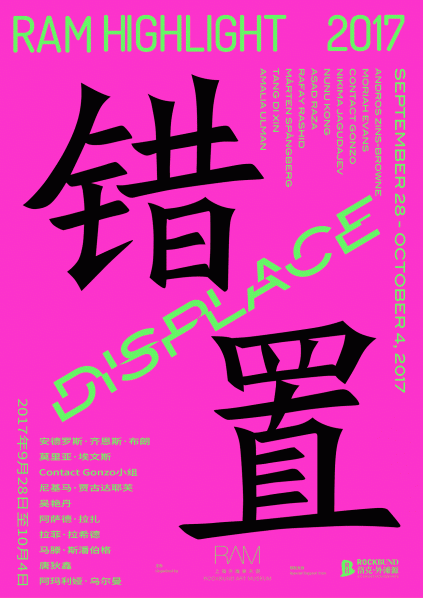 Rockbund Art Museum is delighted to announce the launch of the annual art project RAM HIGHTLIGHT 2017: "DISPLACE"on 28 September which will run until 7 October 2017. Following the success of first editions last year, RAM HIGHLIGHT 2017 continues its exploration into the cutting-edge creativity in contemporary art and cultural fields. Ten artists from various countries are invited to present a rich and dynamic configuration of programs to invest the museum during their short stay in ten days. "DISPLACE" cannot be simply concluded as exhibition, performance, dance or theatre, yet having different layers of visual and audio elements, as well as performances, unfolded and overlapped. It will foster the diverse yet open viewing experience and ways of participation for the audience by its unique statements and expressions.
RAM HIGHLIGHT 2017: DISPLACE
Through the accumulation of changing time and space experiences, DISPLACE offers unexpected events to happen everyday in the Museum: improvisational activities deriving from sports, dance, music, social media, eco-care, family relationship or even cooking; Moreover a program running through all night until the early dawn, and allowing the audience to have a particular time plunging into darkness, evoke the unexpected encounter with the artists, capturing the energy and wonder. In the form of project, "DISPLACE" transforms gallery space into experimental space that breaks through the boundary.
"RAM HIGHLIGHT is distinct from any usual exhibition of artworks but an interactive event," says Larys Forgier, Director of RAM, "the core of 'DISPLACE' is to have the projects conceived by the artists transform into a mediating position, generating an ambiguous situation, where the acts of looking, showing, stating, performing are forever unfixed but always extended and embodied, to trigger more social circulation and moving consciousness. When the artists are in contact with the audience, they are also challenging their own identities."
About the exhibition
Dates: Sep 29, 2017 – Oct 4, 2017
Venue: Rockbund Art Museum (20 Huqiu Road, Huang Pu District, Shanghai)
Artists: Moriah Evans, contact Gonzo, Nikima Jagudajev, Nunu Kong, Asad Raza, Rafay Rashid, Mårten Spångberg, Tang Di Xin, Amalia Ulman, Andros Zins-Browne
Courtesy of the artists and Rockbund Art Museum, for further information please visit www.rockbundartmuseum.org.
Related posts: