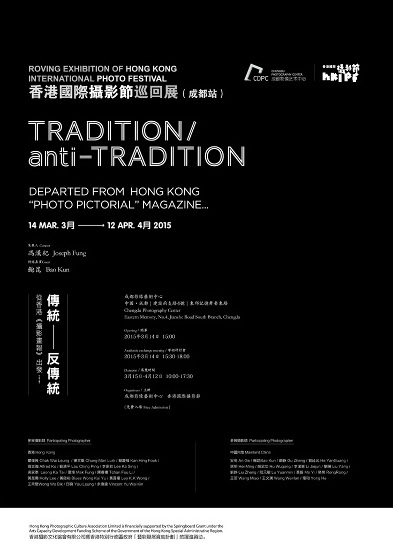 Through the retrospect of Hong Kong "Photo Pictorial" which was first published fifty years ago, this exhibition endeavors to examine the transformation of photography in Hong Kong and Mainland China in the last half a century. By observing and comparing the work of photographers from the two regions, we can find similarities and differences on the ideas and topics of the images as well as the mutual influence between two places. All participating photographers are leading figures of their generation. A review of their early and recent work allows us to grasp the changes in their expression format and concept.
About the exhibition
Opening: March 14, 3:00PM
Duration: March 14–April 12
Venue: Chengdu Photography Center
Participating Artists:
HONG KONG
CHAK WAI LEUNG
CHUNG MAN LURK
KAN HING FOOK
ALFRED KO
LAU CHING PING
LEE KA SING
LEONG KA TAI
MAK FUNG
TCHAN FOU LI
HOLLY LEE
BLUES WONG KAI YU
LEO K.K. WONG
WONG WO BIK
YAU LEUNG
VINCENT YU WAI KIN
MAINLAND CHINA
AN GE
BAO KUN
GU ZHENG
HE YANGUANG
HEI MING
HU WUGONG
LI JIEJUN
LIU YANG
LIU ZHENG
LU YUANMIN
MO YI
RONGRONG
WANG MIAO
WANG WENLAN
YONG HE
Courtesy of the artists and Chengdu Photography Center, for further information please visit www.hkipf.org.hk or http://cdpc.chengdu.cn/.
Related posts: