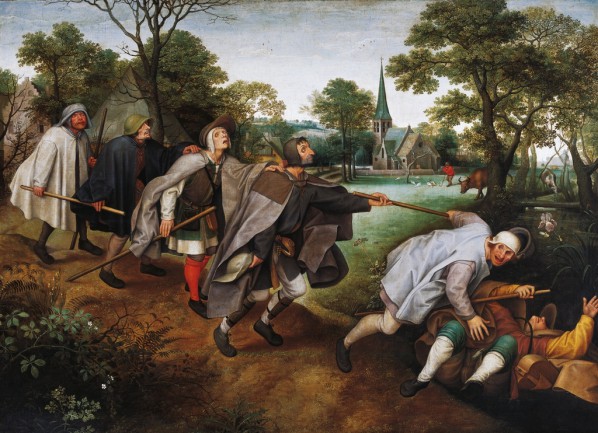 "Rubens, Van Dyck and the Flemish School of Painting: Masterpieces from the Collections of the Prince of Liechtenstein" opens to the public at the China Art Palace Museum in Shanghai on March 12 through to June 2, 2014.
The Flemish school of painting is an important art genre in the Baroque period of Western art history, Peter Paul Rubens and Anthony van Dyck were the representative masters of this genre. Their outstanding artistic boutiques have far-reaching effects, creating an important chapter in the Western art history.
The exhibition presents more than 100 selected oil paintings, prints and tapestries from the collections of the Prince of Liechtenstein, involving portrait, landscape, still life and so on, with themes covering religion, mythology and history, and applying 13 chapters to fully showcase the history of the development of painting in the south of Netherlands in the 16th century and the 17th century, including "God Mars and Rhea Silvia", "Portrait of Clara Serena Rubens" by Rubens, "Portrait of the Genoa Aristocratic", "Portrait of Maria Lugia de Tassis" by Anthony van Dyck, as well as works by Quentin Massys, Jan de Cock, the Bruegel's family, and Jacob Jordaens. This is the first and largest exhibition of masterpieces of Flemish painting on display in China, so that Chinese audiences will enjoy the high specification classics, and high quality even if not going abroad, to closely perceive the brilliant and romantic art feelings.
Chapter I: The Beginning of Flemish Painting
As a concept of art history, Flemish Painting formed in 1581, and early Netherlandish artists specialized in depicting the details, focusing on the expression of the reality of the material, and this practice became the fertile soil for the growth of landscape painting, still life painting, and genre painting.
Chapter II: Tradition and Background of the Antwerp School
The Antwerp School is a term for the artists that were active in Antwerp, first during the 16th century when the city was the economic center of the Low Countries, and then during the 17th century when it became the artistic stronghold of the Flemish Baroque under Peter Paul Rubens. Antwerp served as the main trading and commercial center of the Low Countries around 1500. Wealthy patrons gradually increased, attracting more artists form the Guild of Saint Luke to live and work in the place.
Chapter III: Peter Paul Rubens – Mythological and Religious Works
The name of Peter Paul Rubens is synonymous with Flemish Baroque painting. He was an accomplished artist, involved in a variety of creative fields such as sculpture, architecture, book illustration, print, tapestry and painting, and his themes included hunting scenes, landscapes, genre scenes, portraits, tapestry patterns, as well as religion, myth and fable.
Chapter IV: Peter Paul Rubens – Decius Mus Series
Peter Paul Rubens created 8 pieces of works entitled Decius Mus Series in 1617, taking them as samples to produce tapestries. Decius Mus is the name of the Roman who (according to legend) sacrificed himself in battle, in the belief that the infernal gods would then destroy the enemies. In the Latin War in 340 BC at the Battle of Vesuvius, Having been forewarned in a dream that his troops would falter and retreat, he threw himself into the heart of the battle, sacrificing his own life in an effort to spur his men. The soldiers took courage from him, regrouped and won the day.
Chapter V: Peter Paul Rubens – Portrait Painting
After the second half of the 16th century, Flemish and Northern Netherlandish painting art went hand in hand, and the portraits of the two places were almost the same. After entering the 17th century, portrait painting was redefined and being full of new vitality. Peter Paul Rubens (1577-1640) and Anthony van Dyck (1599-1641) were the important representative artists. Rubens and van Dyck created numerous portraits of friends and the nobility.
Chapter VI: Peter Paul Rubens – Print
In the first half of the 17th century, the art market of Antwerp was very active, various paintings and prints emerged, and Rubens played a great role in the promotion of the prints of Antwerp. In some literature of that time, it referred to a concept of "Rubens Prints", which covered all forms: etching, cover designs and book illustration, etchings and woodblock; it also included reprographic prints, as well as the prints produced and printed by his aides and colleagues according to his works soon after his death.
Chapter VII: Anthony van Dyck – Portrait Painting
Anthony van Dyck went to the studio of Peter Paul Rubens (1577-1640) in 1617, he painted together with the master who was more than 20 years older than him, which benefited him a lot. Van Dyck became court painter for Charles I of England and was influential in subsequent English portraiture.
Chapter VIII: Anthony van Dyck and Jacob Jordaens
In order to find their own style, Anthony van Dyck tried a variety of practices, shifting from extremely rough creative techniques similar to sketching to the smooth, mellow, delicate painting style, while Jacob Jordaens also tried to imitate the style of the great idol Rubens, but because of his love of local people and things as well as a preference for artistic expression, he soon formed his own style.
Chapter IX: Imitation of the Painting of Mythical and Historical Themes of Peter Paul Rubens, Anthony van Dyck, Jacob Jordaens, and Snyders
There emerged many painters imitating and following the masters Peter Paul Rubens, Anthony van Dyck, Jacob Jordaens, and Snyders.
Chapter X: Interior Painting and Genre Painting
Genre paintings, or scenes of everyday life, were common in the 17th century. Many artists followed the tradition of Pieter Bruegel the Elder by depicting "low-life" peasant themes, although elegant "high-life" subjects featuring fashionably-dressed couples at balls or in gardens of love were also common. Flemish genre painting was strongly tied to the traditions of Pieter Bruegel the Elder and was a style that continued directly into the 17th century through copies and new compositions made by his sons Pieter Brueghel the Younger and Jan Brueghel the Elder.
Chapter XI: Flemish Landscape Painting
Gillis van Coninxloo was an innovative landscape painter in Antwerp in the late 16th century, who introduced a more natural view instead of the traditional universal landscape popularized by earlier painters such as Joachim Patiner. He left a strong influence on northern landscape painting in general through his period in Amsterdam and as a founding member of the Frankenthal School. Forest and mountain landscapes were painted by Abraham Govaerts, Alexander Keirincx, Gijsbrecht Leytens, Tobias Verhaecht and Joos de Momper. Paul Bril settled in Rome, where he specialized as a landscape painter decorating Roman villas and creating small cabinet paintings.
Jan Wildens and Lucas van Uden painted natural landscapes inspired by Rubens, and frequently collaborated with figure painters or animal specialists to paint the backgrounds. Rubens turned to landscape painting in the 1630s, focusing on the area around his chateau.
Chapter XII: Animal and Hunting
Frans Snyders (1579–1657) painted large still life paintings focusing on dead game and animals. His compositions, along with those of his follower Adriaen van Utrecht (1599–1652) looked back to the 16th-century paintings of Pieter Aertsen and Joachim Beuckelaer, but instilled that tradition with a high Baroque monumental influence. Subsequent artists, Jan Fyt and Pieter Boel further elaborated on this by including a noticeable mixture of living animals and dead game. These latter paintings are closely related to images of the hunt, which came into fashion in Flemish painting during the 17th century.
Rubens introduced the monumental hunt to Flemish art, depicting on a large scale a close battle inspired by his study of classical antiquity and Leonardo da Vinci's Battle of Anghiari. Frans Snyders and Paul de Vos created similarly large paintings which are distinct from Rubens's works in their focus on the animals and absence of human participation.
Chapter XIII: Still Life
"Still Life" refers to a painting category that is inanimate, usually small objects or animals and plants are arranged in a particular sequence. According to literature, the term initially appeared in 1650, while this painting category originated in the late 16th century.
Jan Brueghel the Elder was one of the important innovators of the floral still life around 1600. These paintings present immaculately observed arrangements and compositions, though they are imaginary creations of flowers that bloom at different times of the years. They were popular with leading patrons and nobility across Europe, and generally had an underlying Vanitas motif. The compositions of Brueghel's paintings were also influential in later Dutch flower pieces. Brueghel's sons Jan Brueghel the Younger and Ambrosius Brueghel were also flower specialists.
Closely related to the flower still life is the flower garland genre of painting that was invented by Jan Brueghel in collaboration with cardinal Federico Borromeo in Milan. The early versions of these paintings, such as the collaboration by Breughel and Rubens in Munich show the Virgin Mary and Christ child surrounded by a garland of flowers. They have been interpreted as distinctly Counter Reformation images, with the flowers emphasizing the delicacy of the Virgin and Child–images which were destroyed in large numbers during the iconoclastic outbreaks of 1566. Brueghel's student, the Jesuit painter Daniel Seghers, also painted many of these types of works for an international clientele.
Apart from the exhibition, China Art Palace Museum launches two related lectures, including "Overview of the Collections of the Prince of Liechtenstein" and "Going into the 'Stamp Kingdom' Liechtenstein".
"Overview of the Collections of the Prince of Liechtenstein"
Speaker: Johann Kräftner, in charge of the Collections of the Prince of Liechtenstein
Time: 14:00 (Wednesday) on March 12, 2014
"Going into the 'Stamp Kingdom' Liechtenstein"
Speaker: Cynthia Li, chief representative of Liechtenstein Postal in China
Qian Cunzhi, Academic Committee of Shanghai Philatelic Association, Chairman of the Shanghai Liechtenstein Stamps Research Association
Time: 14:00 on March 15, 2014
About the exhibition
Venue: hall 17 of 0 m floor, China Art Palace Museum
Address: Shangnan Road No. 205 in Pudong New Area of Shanghai
Date: March 12 – June 2, 2014
Courtesy of the artists and China Art Palace Museum, translated by Chen Peihua and edited by Sue/CAFA ART INFO, for further information please visit china.artmuseumonline.org.
Related posts: