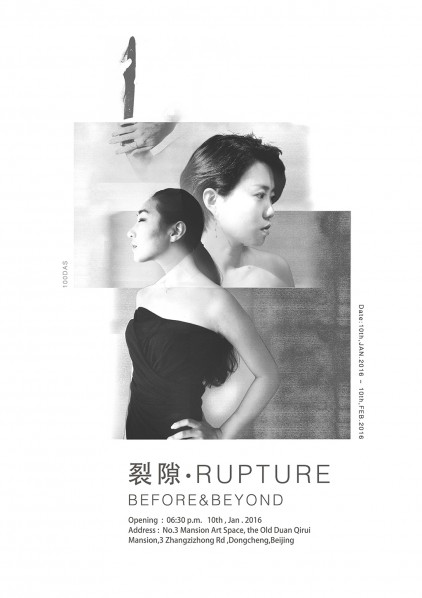 Rupture –Before & Beyond: Sun Moya & Zhang Yiy Dual Exhibition is the first dual show of these two young artists, and their first show in Beijing after studying overseas. This exhibition features their recent artworks created in 2015 when the artists were traveling and living abroad.
The opening reception will be held at 6:30 p.m. on 10 January, 2016, in No. 3 Mansion Art Space, inside the Old Duan Qirui Mansion in Beijing.
From recent practices of Moya and Yiy, Rupture – Before & Beyond explores the gentle breathing and tenacity of life underneath the thriving appearances. Both of their works presents a sense of fragile balance. It is not a static balance due to the counteract of internal and external pressure, but a living one that maintains itself among other forces. It resembles a breath held inside the body, coming out slowly and lastingly during the artists' creation process. This balance in motion not only manifests itself in the form of artwork, but also goes introspectively to the artists' life experiences.
In Sun Moya's painting, the sphere may symbolize a moon that is both imaginary and real, a womb that is both fixed and biomorphic. But it is more of an inflated membrane that expands in all directions on the border of rupture; whereas in Zhang Yiy's "Babel Towel (Lifeline in the Palm)" series, the lifeline as an ongoing rhythm, is both the joining line between surfaces and the breaking line between sections. Rupture, the moment between opening and closing, acts as a conjunction in grammar. It comprises not only continuous, causal relationships, but also adversative, concessive relationships. The rupture line shifts and specifies its meaning as the images changes. But at the same time, it stays in a position of absolute abstraction, like a crease on a piece of thin paper. The artists hold moments of breaking and continuation in their hands, converging them into a borderline, inside is an invincible tenacity, outside is a space generated after explosion.
This exhibition lasts for one month, ending on 10 February, 2016.
About the artists
Sun Moya
2014- present (MLA candidate/ Landscape architecture and regional planning) University of
Pennsylvania, PA, United States.
2010- 2014 (BLA/ Landscape architecture), Tongji University, Shanghai, China.
Zhang Yiy
2014- present (MFA candidate/ Sculpture) Academy of Fine Arts, Munich, Munich, Germany.
2008- 2013 (BFA/ Sculpture), Central Academy of Fine Arts, Beijing, China.
2010- 2011 (Visitor Exchange/ Sculpture), École nationale supérieure des Beaux-Arts, Paris, France
About the exhibition
Curators: Ma Jue, Yi Yinzi
Organizer:100 DAS Art and Design (Inc.)
Exhibition Dates: 10 January 2016 – 10 February 2016
Exhibition Opening: 6:30 p.m., 10 January 2016 (Sunday)
Address: No. 3 Mansion Art Space, inside the Old Duan Qirui Mansion, 3 Zhangzizhong Rd (close to Dong Si Avenue North), Dongcheng, Beijing
Courtesy of ZHANG Yiy & SUN Moya.

Related posts: