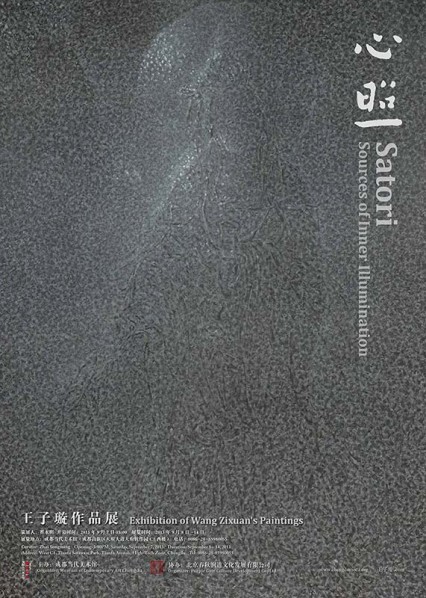 "Satori: Sources of Inner Illumination" reflects the mental experience of Wang Zixuan growing to be an artist from a singer in a decade, as well as the inner illumination of Wang during her ten years of studying Buddhism, painting and practice.
Western oil painting originates from religious sculpture art, and traditional Western Christian portrait painting, this was once an important subject to depict in Western oil painting. Today, after ten years experience and practice, Wang Zixuan creates new contemporary Chinese Buddhist art. Purely using a Western material and tools, she continues and develops the traditional oriental art of Buddhism. When she initially studied painting, Wang found her favorite subject to copy were the Chinese mural paintings of the Han Dynasty, to distill a relief-like brushstroke. Latterly, she often used a knife to carve and chisel pigments leaving marks in her paintings. Meanwhile, over the decade, Wang has become experienced and enlightened in her art and practice both developing from the "visible" to "invisible". Therefore, "Satori Sources of Inner Illumination" reflects the Buddha in her mind, from realism to freehand, until a more abstract "shape", increasingly fades into the process of experiment and transformation; it is necessary that the recognition process and Wang Zixuan's comprehension in art are synchronized.
Wang Zixuan paints in the style of intuitive contemplation, "arrival of a realm due to the static", deleting thinking in the facing wall; eliminating distractions and bridging the devout religious spirit and artistic level in her way of thinking, reaching the same goal by different means. It is obvious that from the first painting that pursues "imitation of appearance", until now painting and scraping over and over, she has finally made an appearance hidden in the chaos, in such a "silent independent" perception, her way and state of mind is uncovered.
Wang Zixuan said Chengdu is the "original" place for her painting, and Chengdu Sarnarth initially inspired her. "Satori Sources of Inner Illumination" is the first exhibition held in Chengdu, featuring the works that reflect her true nature in facing the wall over the decade.
Preface of "Satori Sources of Inner Illumination"
Zhai Yongming
About the exhibition
Host: Museum of Contemporary Art Chengdu
Organizer: Purple Gate Culture Development Co., Ltd.
Curator: Zhai Yongming
Opening Reception: at 15:00 pm, September 7, 2013
Duration: September 8 – September 14, 2013
Venue: Museum of Contemporary Art Chengdu
Address: West C1, Tianfu Software Park, Tianfu Avenue, High-Tech Zone, Chengdu, China
Translated by Chen Peihua and edited by Sue/CAFA ART INFO
Related posts: