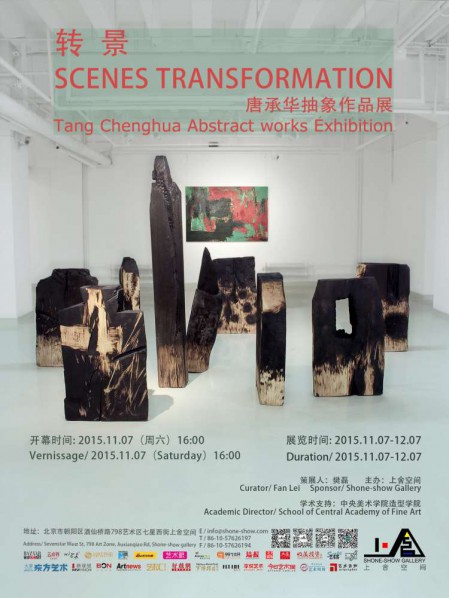 Organized by Shone-Show Gallery and academically sponsored by the School of Plastic Arts at CAFA, "Scenes Transformation: Tang Chenghua's Abstract Works Exhibition" will be unveiled on November 7, 2015 at Shone-Show Gallery. This exhibition will showcase over thirty pieces of oil paintings by the renowned abstract artist Prof. Tang Chenghua, who teaches at the China Central Academy of Fine Arts (CAFA). A series of site-specific installation he created for Shone-Show Gallery will also be shown at the exhibition.
Tang Chenghua's abstraction distinguishes from others as most of his creations are related to "scenes", whether they are the landscapes from the Nature or the built environment deep inside, neither of them are directly from the pictogram contents with different kinds of colors, however, white canvas are endowed with free conversions through his body and brushes, and they develop into a colorful world.
Tang Chenghua has a rich international academic background. Having floated about between East and West for a decade, Tang Chenghua's work emphasizes the serendipity of the creation process, and shimmers with the passion of abstract expressionism and movement art. His abstract art, which straddles the divide between materials and mediums, has traces of a magnificent personal style, but Eastern culture dominates his artistic world.
About the exhibition
Curator: Fan Lei
Duration: 7 November, 2015—December 7, 2015
Opening: 4:00PM, 7 November, 2015
Academic Director: School of Plastic Arts, the Central Academy of Fine Arts
Courtesy of the artist and Shone-Show Gallery, edited by Sue/CAFA ART INFO.
Related posts: