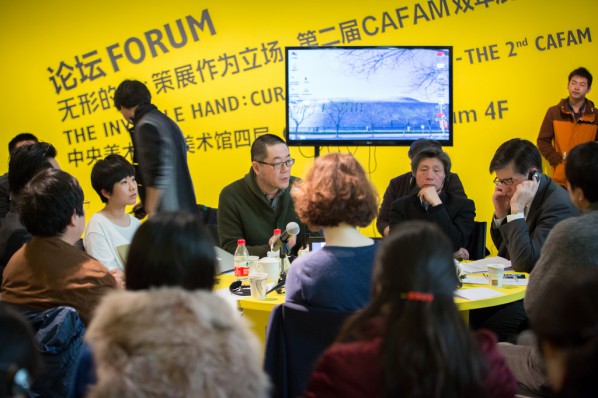 Invisible Hand: Curating as a Gesture – The 2nd CAFAM Biennale is on view at the CAFA Art Museum, it focuses on the curatorial mechanism behind the exhibition, which has triggered an extensive discussion on this topic within art museum circles, curatorial circles and academic circles within a short time. In the morning on March 1, "Curatorial Mechanism and the Art Museum" the curators' roundtable discussion on the 4th floor gallery of CAFA Art Museum pushed the themed discussion towards the climax.
Wang Huangsheng, Curator of CAFA Art Museum presided over the exhibition, on opening, Wang said curators appeared in some exhibitions of art museums at the end of 1990s, and it was at that time that the curatorial system started to have relations with art museums. How to understand the curatorial system of art museums? This was the core of the roundtable discussion, which was a meaningful proposition in the Chinese art world.
Fan Dian (Curator of National Art Museum of China): Unified the Energy of Art Museum Mechanism and Curatorial Mechanism
Today, exhibition planning and art museums play a game, which was overall considered as identifying with the whole development of human thinking and culture, as curators be more directly face art scenes, the most pioneering, frontier and challenging characteristics of art ideas and thoughts, curators conducted their thinking between art scenes and the acceptance of the public. Chinese art entered an era of the curator, and also an era of the art museum, he hoped both of their energy would be unified, to unify their energy for the promotion of visual cultural art, and then promote the development of art.
Jia Fangzhou (Art Critic, Curator): the Relationship between Curator and Art Critic
Jia Fangzhou said, they were different from the Western situation, Chinese curators originated from critics. The noted Chinese Modern Art Exhibition of 1989 was organized by critics who served as editors, with less of the concept of curator at that time, since 1989, as time has changed, critics have lost their discourse in entering contemporary art from the perspective of editors, so that more and more people show their discourse through an exhibition. When it came to the difference between the critics and curators, Jia Fangzhou believed that curating is a critic of power, that curators had a right to determine a subject and choose an artist, which reflects their academic power in this process; while critics simply use copywriting to showcase their discourse. In addition to grasping some core issues of contemporary art, curators need to complete communication with artists, contact venues, get sponsorships, etc., which needs comprehensive skills.
Yi Ying (Professor of CAFA): "Curator" Identity of Traditional and Contemporary Art Fields
Yi Ying thought curators were basically a "lie" in the ecology of the museum and art museum, and played a secondary role. Yi Ying believes that, people mainly talk about curators in the category of contemporary art, because contemporary art always destructed the stable, balance and aesthetic harmony conducted outside of the institution. Contemporary art was in need of the curator, who was responsible for the promotion of contemporary art to the public.
Li Xiaoshan (Curator of Art Museum of Nanjing University of the Arts): Art Museums Should Eliminate Their Evils, Cater for the Involvement of Curating
Li Xiaoshan initially said he was afraid of the present situation in his speech, he believes that it was really rare to demand this kind of curating in the ecology of Chinese art museums, it was difficult for curators to intervene with the ecology of Chinese art museums, except if art museums actively required it. He believed that the present dilemma originated from the extreme bureaucratic and administration ecology of Chinese art museums, lacking in the cultural ideal.
Gao Peng (Executive Director of Today Art Museum): How to Choose a Curator for a Contemporary Art Exhibition
Gao Peng introduced some exhibition cases, and a plan for a seven-day youth art program, as well as some programs such as "Today Art Window", "Today Micro Journal", so using these ways to think about what a curator was? Who determined a curator? Who could be a curator?
Peter Anders (Director of Goethe Institute, Peking): Art Planning Should be Associated with the Local Situation
Peter Anders is a scholar on drama study, so he compared museum system with theater system in his speech, a theater had teams of stage management and repertory arrangements, in the same way, an art museum also had various expert teams with various missions, but not all of them were curators. It was necessary for art museums to think about the target audience in the operation of art museums, in addition, curators should think of how to connect art planning with the local situation, and which one interpreted the special situation when they were engaged in curating.
In addition, there were many scholars, curators respectively issuing their opinions of the "Curatorial Mechanism and Art Museum" from the perspective of their studies and practices: Gong Yan, Curator of Shanghai Power Station of Art focused on the recessive conflict between the art museum and curatorial mechanism, did contents and practice initially appear? Or the mechanism and position? Was there a balanced relationship between them?
Associate professor Leigh Markopoulos from California College of the Arts introduced the emergence of the independent curator in the West in her speech, in 1969 Harald Szeemann got rid of the institution, and planed the exhibition "When Attitudes Become Form", becoming the first independent curator; Yves Aupetitallot, President of Le Magasin-CNAC, Grenoble, FR made use of specific exhibition cases to illustrate the relationship between the curator and art museum; Wu Hongliang, Curator of the Art Museum of Beijing Fine Art Academy shared his experience by using curatorial concepts to associate traditional art with contemporary art, from the perspective of the on-going Qi Baishi's exhibition.
Journalist: Zhang Wenzhi, Photo: Yang Yanyuan / CAFA ART INFO
Translated by Chen Peihua and edited by Sue/CAFA ART INFO
Related posts: