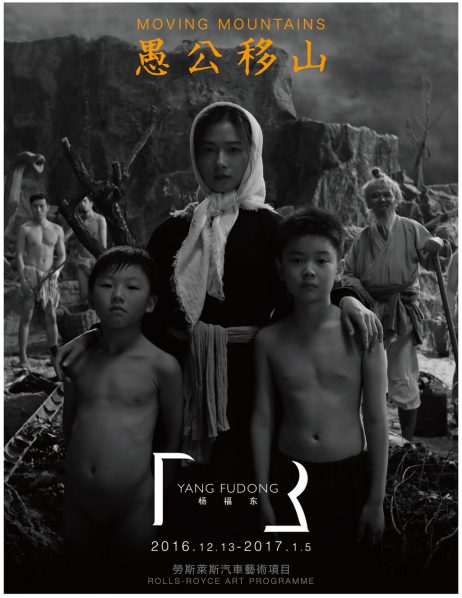 SCôP is particularly proud to host the exhibition of Yang Fudong's new work, Moving Mountains, also the latest artist commission by the Rolls-Royce Art Programme.
Yang Fudong (b. 1971), an award-winning Chinese filmmaker and photographer, will create a completely new artwork for the Programme. He has exhibited in group and solo shows around the world including the Documenta 11, Kassel, Germany (2002) and two participations at the Venice Biennale.
Moving Mountains is inspired by the ancient tale of a man, whom some called foolish, for seeking to move a mountain. Yang Fudong makes this story a poetic reflection upon human nature and the shifting values to which it can be subject, as presented in his new 46-minute black-and-white film, Moving Mountains, recently completed at the invitation of the Rolls-Royce Art Programme.
Visually, Yang Fudong took inspiration from the masterful ink painting produced in the early 1940s by Xu Beihong (1895-1953). The film mirrors the spirit of endurance that Xu Beihong's painting extolls, and it continues to illustrate the virtues of perseverance and will power from the Chinese fable. Yet, Moving Mountains explores a new interpretation by taking the old metaphoric story of the foolish man as an outlet for recent musing. The spirit of motherhood is central and embodied in a character played by the popular actress Wan Qian.
For the exhibition at SCôP, the film Moving Mountains is the focal point of a display which combines a second moving image sequence, this time in color, together with multiple elements from the production process.
About the exhibition
Dates: 2016.12.13.-2017.1.05
Opening: 2016.12.11. 3PM
Venue: SCôP
Courtesy of the artist and SCôP, for further information please visit www.scop.org.cn.
Related posts: