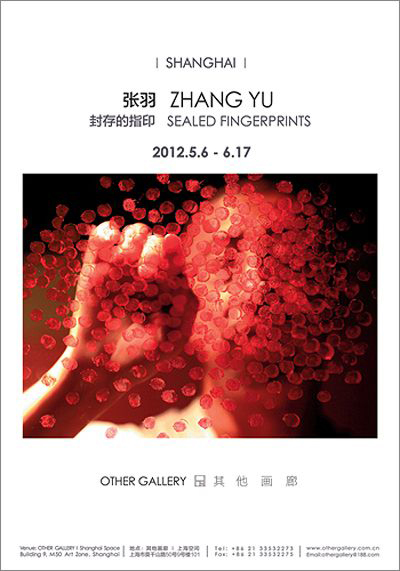 On April 16th, 2012, Zhang Yu accomplished his new work Sealed Fingerprints, a small piece of installation that he had conceived quite a long time ago. This piece no longer emphasizes the concept of self-cultivation in the practice of fingerprinting. Instead, it notes down part of the prints in the short process and seals them up. The fingerprints in this piece are different from those in the earlier works. Made by different materials, they are manifested in quite clear traces, which can reflect the artist's identity. In other words, the work emphasizes the social attributes of the fingerprints. The practice of sealing does not mean hiding the fingerprints from viewers by archiving them, but presenting them to viewers after they are sealed up in a certain way. Sealed Fingerprints is also an inquiry by visual aesthetics. Composed of the invisible practice of fingerprinting and the visible nail polisher, fingerprints, wood, the transparent glass-box and the cast of light, the work might provide viewers with something new. The way of sealing up can be applied to other works. Zhang's fingerprints made at various stages and with different emotions can also be sealed into his fingerprint archive. For this project Zhang Yu works together with Maarten Bertheux, the international curator of The Netherlands for which Maarten has written an article for the exhibition. Actually Sealed Fingerprints is specially created for this project. So this solo exhibition held by the OTHER GALLERY, in a strict sense, is the exhibition of a single piece of work.
About the Exhibition
Artist: Zhang Yu
Curator: Maarten Bertheux
Duration: May 6th- Jun 17th, 2012
Vernissage: 5 – 7 pm, May 5th, 2012
Venue: OTHER GALLERY l Shanghai Space 101, Bld.9, Moganshan Rd, M50, Shanghai
Courtesy of Zhang Yu and Other Gallery, for further information please visit www.othergallery.com.cn.
Related posts: