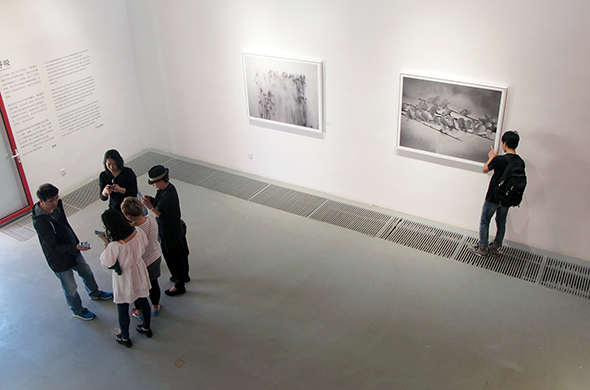 On May 7, 2016, the artist Wu Shunan's solo photographic exhibition "Respiration" opened at CIPA Gallery in Caochangdi Art Zone, the exhibition is produced by the photographic collector Charles Jing, curated by photographic critic Jiang Wei and presents two series of photographic works including "Alone Whisper" and "Respiration" created by the artist in recent years. It is also the first solo exhibition of a young artist launched by CIPA Gallery since the establishment of the gallery.
The exhibition is centered on the "Respiration" series, and these floral thematic photos refuse to focus on beautiful fresh flowers, but perform as lifeless plastic flowers and withered flowers, dried flowers are perhaps inherently false, but the memories and perception of the flower still exists, or even circumfuses with it which is one of the reasons for the artist to create the work and through it to explore the intertextual relationship between fact and fiction in photography.
Curator Jiang Wei quoted a medical phenomenon in attempting to explain the spiritual logic of Wu Shunan's photography: Modern medicine finds that, if one loses his/her left hand, he/she can arouse body memories and experiences as saved in the body by moving his/her right hand, which is defined as the relationship between disappearance and presence. Only at moments when intensive attention is paid to body and soul, can this method be applied. Similarly, Wu Shunan's photography is through lifeless withered flowers/ artificial flowers, trying to recover the perception of the memory of real flowers perhaps the memories are the most real, while the superficial photographic narrative is nothing more than the unconscious presentation of a kernel memories.
Plastic flowers and withered flowers are both real and false, while Wu Shunan considers it as a "lively false". It is obvious that the reality in people's mind and thoughts is greater than the fact before their eyes, through the artistic creation, refined and created carefully, a new order of materials can be created, which is called the reasonable fiction. It is a fiction of its liveliness, a quality that never comes directly from life, but from the process of dealing with life. If a photographer organizes facts by giving them life first and showing them to the viewer later, then he is taking distinctive pictures. In addition to the "Respiration" series, the show also includes Wu Shunan's "Alone Whisper" series that is themed on animals.
In addition, planned by Jiang Wei, published by China Photography Publishing House, the portfolio entitled "Respiration" also debuts at the opening of the exhibition. The show continues to June 19, and then it will be moved to Shanghai, in cooperation with C14 Gallery, Shanghai.
Text and photo by Zhang Wenzhi/CAFA ART INFO
Translated by Chen Peihua and edited by Sue/CAFA ART INFO
About the Exhibition
Title: "Respiration" Wu Shunan Solo Exhibition
Curator: Jiang Wei
Opening Reception: 15:00, May 7, 2016 (Saturday)
Duration: May 7 – June 19, 2016
Venue: CIPA Gallery, Beijing
Address: A2, Caochangdi Red No.1, Chaoyang District, Beijing
About the Artist
Wu Shunan is a freelance photographer born in Haerbin, Heilongjiang Province in China in 1987. He graduated from Luxun Academy of Fine Arts in 2010. He lives and works in Beijing.
Solo Exhibitions
2016 Respiration, C14 Gallery, Shanghai
2016 Respiration, CIPA Gallery, Beijing
2014 Alone Whisper, Ji'nan International Photography Biennale, Ji'nan
2011 Between, Lianzhou International Photo Festival, Lianzhou
2011 Between, Dali International Photo Exhibition, Dali
Group Exhibitions
2015 Image China New York International Photography Exhibition, Flushing Town Hall, New York
2015 From Iconography to Photography: Selected Chinese Contemporary Photographs from Charles Jing's Collections, CIPA Gallery, Beijing
2015 Photo Shanghai, Shanghai Exhibition Center, Shanghai
2015 Stare At The Things, C14 Gallery, Shanghai
2014 Challenge the Tradition: 20th Century Western Classical and Chinese Contemporary Photography, Inside-Out Art Museum, Beijing
2013 The Somniloquence of Photography in Ten Years, EPSON Image Gallery (EPSITE), Shanghai
2010 Giant Cup Collection of Today Art Student Annual Art Award, Today Art Museum, Beijing
Courtesy of the artist and CIPA Gallery, for further information please visit www.cipagallery.com.
Related posts: