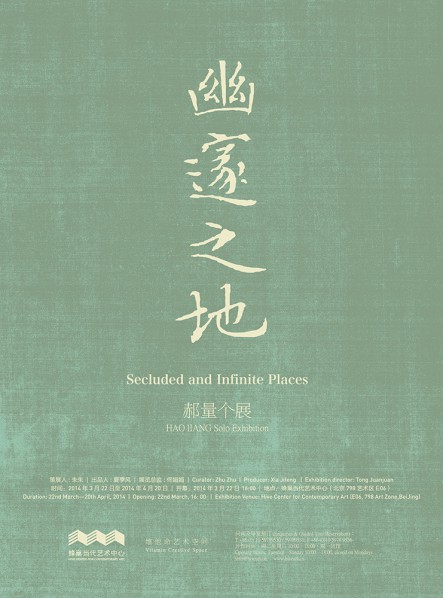 This exhibition, co-organized by HCCA and Vitamin Creative Space, will feature Hao Liang's eight works created since 2011. Hao Liang's creation has always been taking sources from traditional Chinese culture; almost every work could find its reference in the long-gone ancient times. The choice of being a companion with the past dose not derive from a retro dream of getting back to the old era, but rather is made out of the willing of exploring how contemporary people sense the landscape (shanshui) while contemplate ourselves. It also seeks to find out how to rejuvenate the paradigm of traditional Chinese painting and how to reintroduce the ancestors'study of nature into the contemporary writing. In addition, Hao Liang's a paintings inherit the physical form of traditional Chinese paintings. Firstly paint on the flawless silk with high-quality mineral pigment; then have the painting mounted by artisans with rice paper and paterned silk, making it a scroll or album. Lastly invite some like-minded friends to add postscripts inspired by the the painting. This exhibition would like to show the charm of this art form: constantly being opened and closed, circulating among hands, between reading and rewriting.
About the exhibition
Exhibition Dates:  2014.3.22 – 4.20
Opening:  4:00PM  2014.3.22
Curator: Zhu Zhu
Producer: Xia Jifeng
Exhibition Director: Tong Juanjuan
Courtesy of the artist and Hive Center for Contemporary Art, for further information please visit www.hiveart.cn.
Related posts: