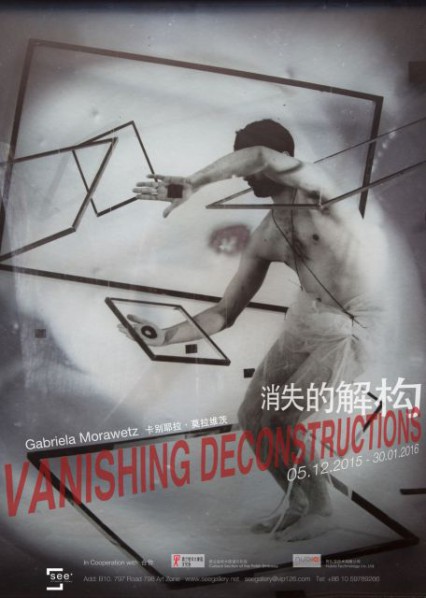 The artist Gabriela Morawetz does not settle for a single medium. The multi-layering of the material reflects the different layers of her works content. Her new series "Vanishing De-constructions" is a play on the highly elaborate compositions contrasted to the vast space created through surreal settings and dreamlike space-scapes. Polish-born, Paris-based contemporary artist Gabriela Morawetz works deal with time and space. She creates a moment of mystique and timeless narration that leaves the spectator in awe.
Her new series of photographic installations "Vanishing De-constructions" are contrasting geometric forms against ritualistic settings. The meta-physical and scientific, two contrasting system trying to explain the world, combined in one multi-layered work. The deconstruction of both leaves a momentum of timelessness. The composition vanishing into a trans-like state, invites us to become part of the surreal surrounding.
Morawetz is using photography as a medium of expression, rather than profession. The process of precise composition of the setting, the use of various materials makes her art works more of photographic sculptures capturing the performative installations. Each work produced in this special manner is a unique piece capturing a glimpse of the time in between.
About the exhibition
Date: Dec 5, 2015 – Jan 30, 2016
Opening: Dec 5, 2015, 16:00, Saturday
Venue: See + Gallery
Courtesy of the artist and See+ Gallery, for further information please visit www.seegallery.net.
Related posts: