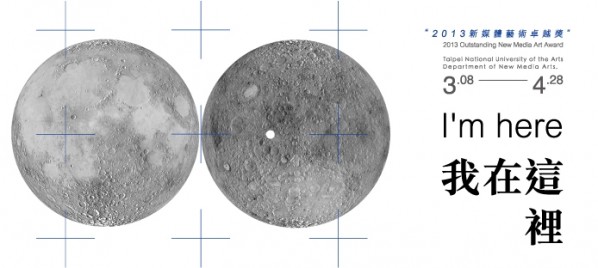 In this digitalized world, artists are not only the creator but also the silent and sharp observer. While media undergoes a vast development, people have no choice but to indulge in digital life. Artists under this situation, is simultaneously a producer, a performer, an observer and an ambiguous outsider. Living in the media world where there are too much information and information travels in a lightning speed, how would an artist attempt to explore self definition and not losing his or her self consciousness, rediscover the distant of media and even to criticize?
In conjunction with Ministry of Education Program for Promoting Teaching Excellence of Universities, and to upgrade the artistic sense, research and creative ability, as well as to encourage openness and creativity of students in the Department of New Media Arts, Taipei University of the Arts (TNUA) organized 2013 New Media Art Merit Award. After a series of selection process, four awardees were selected. The four awardees are Chang Po-Chieh, Chuang Chih-Wei, Huang Zhong-Yu and Wen Hsin.
Selected works in the 2013 New Media Art Merit Award each demonstrates different faces of new media art. Through exhibition of creative works, it will then develop into samples and benchmarks of visual arts in TNUA. Questions explored by the artists are not only their own bodily experience or issues that were overheated, but feel his or her interactions with the society through a more exquisite angle. There are works that combines the artists' thoughts on life.
TNUA's Department of New Media Art has accumulated fruitful results in teaching, research and nurture of new talents. Students' works had been selected in numerous local important art awards such as Taipei Arts Awards, Taipei Digital Art Award, KT Award in Art and Technology, Golden Horse Award. Furthermore, students' works were also invited to exhibit in international exhibitions and performances such as the Venice Biennale, dOCUMENTA, Singapore Biennale, Seoul International Media Art Biennale etc. In order to encourage current students to participate earlier in professional career of creative art, Department of New Media Art collaborated with Kuandu Art Museum by organizing New Media Art Merit Award, introducing works by excellent students of the department to the public, nurturing creative elite that simultaneously possess international vision and creativity in digital art. Through competitions and professional exhibitions, introducing the works by best students to the public, we would like to invite you to Kuandu Museum of Fine Arts, experiencing contemporary art and giving your support and encouragement to young artists.
About the exhibition
Duration: 8 Mar – 28 Apr 2013
Venue: Kuandu Museum of Fine Arts, Taipei University of the Arts
Tel: +886-2896-1000 ext 2432
Mail: kdmofa@kdmofa.tnua.edu.tw
Fax: +886-2-2893-8870
Add: 1 Hsueh-Yuan Road. Peitou. Taipei 112, Taiwan R.O.C
Courtesy Kuandu Museum of Fine Arts, for further information please visit www.kdmofa.tnua.edu.tw.
Related posts: