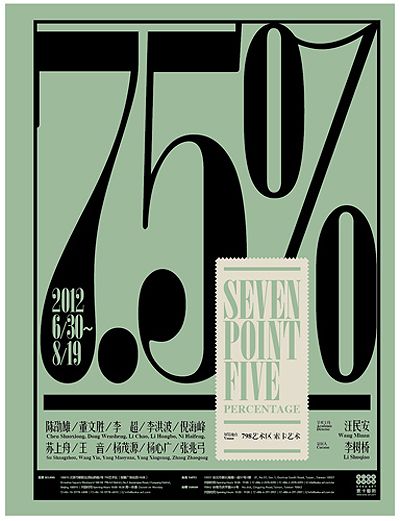 China's GDP growth target for 2012 has been lowered from 8% to 7.5%, in doing this, while the Premier's facing tremendous headwinds from an uncertain global economy, a group of artists as well as art practitioners are making a reflection on the fate of art during this slow-down economic growth period.
What's the point, after all does the exhibition attract people to focus on "Art" again in the name of an economic growth rate (7.5%)? Since the post industrial era, art, as a means of culture expression, has inevitably crushed the value of the economy and technology. This is the clash of sensitivity and rationality. Art does not belong within daily necessities and it's always been created to express a critical reflection on the current social system. If art is not a waste, it should be a thinking wonderland of freedom, a symbol/possibility of a flourishing life.
The prosperity of a society or economy growth has everything to do with consumption, and "waste" is generated at the same time, which has been recognized as normal under today's commercial circumstances. Except for daily necessities, any other consumption could be recognized as a kind of waste. As in the theme of "7.5 percent", the economic growth percentage does not just indicate a circulatory production and consumption system in themselves. Moreover, it insinuates a foaming, flourishing phenomenon and people's want for waste inside it. In the art industry, this flourishing fantasy and passion for "waste" have inevitably been sparked and magnified as all along. Thus, what is the real situation of art? Where are the real arts going forward? Though art has participated into this system for hundreds of years which is doing a great favor for economic growth, it cannot even save itself when "crisis" came.
In 7.5 percent, artists joined together with art practitioners to show you their concerns and interest in issues like the art of survival, art characteristics, and also trying to build confidence, possibility, and strategy for art's livelihood and growth in a "shrinking" China.
About the Exhibition
Location: Soka Art Center Beijing
Date: 30 Jun – 19 Aug 2012
Artist: Chen Shaoxiong, Dong Wensheng, Li Chao, Li Hongbo, Ni Haifeng, Su Shangzhou, Wang Yin, Yang Maoyuan, Yang Xinguang and Zhang Zhaogong.
Courtesy of the artists and Soka Art Center, for further information please visit www.soka-art.com.
Related posts: