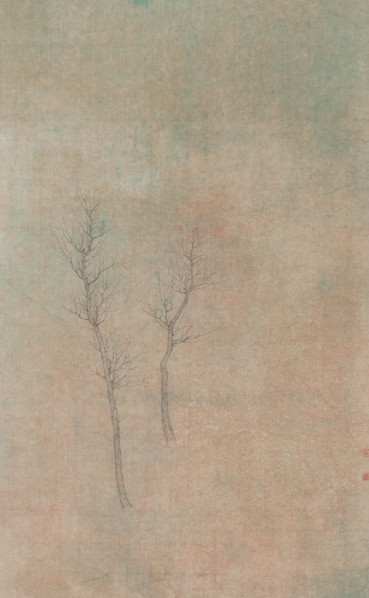 "Shadow-Traces in Mountains: A Solo Exhibition by Zhu Jianzhong" curated by Yukihito Tabata is held at Tokyo Gallery + BTAP. This exhibition is the third round in a series on "New Morouism," following in the wake of "Rhetoric of Subjectivity in a Visual Dimension: Ye Jianqing Solo Exhibition" and "Getting Lost: Zeng Jianyong Solo Exhibition." The term "Morouism" refers a new discovery and elucidation by Tokyo Gallery + BTAP pointing to creative conceptions in contemporary Asian art. Its aim is to rouse an ageless life-consciousness, going back to traditional sources yet able to grow and make further summations, in hopes of vitalizing intellectual tendencies in the state of contemporary art production. "Shadow-traces in mountains" sums up a view that revisits this symbolic cultural sensibility: lone trees are silhouetted in a trackless, hilly wilderness; in a limbo embracing heaven and earth, one contemplates a realm of transformation wherein mind-matter distinctions are left behind.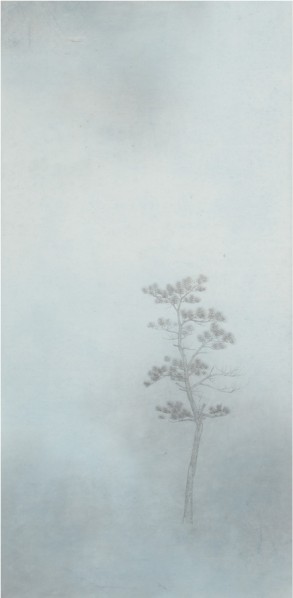 In Zhu Jianzhong's ink paintings, dilute washes are applied over large areas. Through subtle effects of diffusion on white paper, ink can convey the glimmer of dawn or the chilling advance of dusk, ushering the viewer into a realm beyond fixed forms. Compared to ink-and-wash landscapes since the Yuan era, which follow the ink-brush language of texturing strokes, sideways strokes, dotted strokes and filling-in, Zhu Jianzhong handles calligraphic, brush-based effects in an understated way, yet his motifs are adapted from classic structures. He conjures up slope-hugging mist in which these motifs emerge only part-way from obscurity, quiescent and rich with intimations. In an empty expanse, the viewer's gaze is anchored by a lone tree, which serves as a construct to embody Zhu's self-image. The self-examination thus carried out does not proceed by optical means; rather, it proceeds by inner perception and realization. It would seem that Zhu Jianzhong visualizes himself as a mountain hermit leaning on a staff as he roams among lone trees and windswept pavilions. Each boulder and creek becomes a pure, consummate metaphor presenting a pictorial narrative. In Zhu's ink-brush paintings, one can see that his careful attention to light and air has given him a grasp of how to convey atmospheres. This causes his treatments of visual schemata to be quite unlike that of traditional landscapes. Instead, his work bears relative similarity to the "mourou" (misty) style painters in recent Japanese art history, such as Hishida Shunsou and Yokoyama Taikan. Our painter's ink-and-wash painting clearly has absorbed influences from these painters in terms of language and form. Yet he does not wholly gravitate toward the realism and decorativeness adopted by the "Morou-style" painters. Instead his effort is aligned with the spiritual intent of traditional Chinese landscape painting, showing lucid elegance and sublime tonality. Its conceptions are evoked with craftsman-like skill, instead of pursuing spontaneous brushwork and ink effects as China's painters have done since the Yuan. Thus amid his cloud-capped mountains, Zhu Jianzhong endows his lone trees a firm sense of existence. Yet this is not a monumental massiveness; rather, it shows a fairy-like buoyancy and lissome-ness. This is not just a tree motif, for it alludes to the ideal image of traditional literati. One is reminded of the old line of poetry: "In sweeping course of movement he vaults the void and rides the wind/ Floating like one who stands independent from the world." Our phrase "shadow-traces in mountains" would seem to be a fitting description of the creative conception of Zhu Jianzhong's ink-art in this period. Wending its way between tradition and contemporary life, the course pursued by his painting is like a hidden pathway, effacing barriers so that we may frequent either side with ease.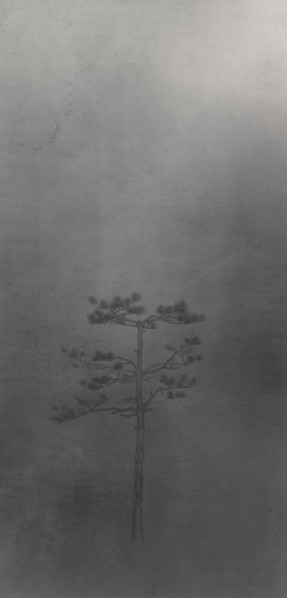 About the exhibition
Duration: 24 May – 25 Jun 2014
Venue: Tokyo Gallery + BTAP
Courtesy of the artist and Tokyo Gallery +BTAP, for further information please visit www.tokyo-gallery.com.
Related posts: