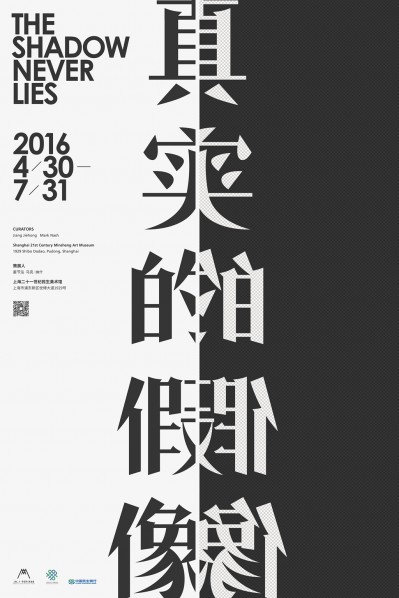 Shanghai 21st Century Minsheng Art Museum (M21) announces the opening of group exhibition "The Shadow Never Lies" opening on April 29, 2016. The exhibition includes over 40 pieces(series) of works by more than 30 artists from 16 countries in Asia, Europe, Middle East, Oceania, Africa and other regions. Artists include Poklong Anading (Philippines), AK Dolven ( Norway), Simryn Gill (Malaysia), HanKyung Woo (South Korea), William Kentridge (South Africa), Lam Tung-pang (China Hong Kong), Takao Minami (Japan), Richard Mosse (Ireland), Zhuang Hui (China) and so on. This exhibition is jointly curated by Jiang Jiehong and Mark Nash.
In the context of contemporary art, the Chinese word YINGXIANG (影像) refers to visual media including still image such as photograph and moving image, for example, video work, film and animation that produced through either traditional or digital techniques, or through interactive methods with available networks. YINGXIANG (影像) can be translated as 'the shadow image' in English.
To many, the 'objectivity' and the 'materiality' of YINGXIANG do not necessarily provide 'truthfulness', while the practical and production process, as if purely mechanical, can act as a mask for its 'objective' appearance. In this exhibition, YINGXIANG is no longer simply definitions of any visual media, but a particular concept, a new perspective, through which we re-experience its 'remoteness' and ' otherness'.
The exhibition will be opened to the public from April 30 to July 31.
About the curators
Jiang Jiehong is Professor of Chinese Art, and founding Director of Centre for Chinese Visual Arts at Birmingham Institute of Art and Design, Birmingham City University. He teaches both in the UK and in China, including the China Academy of Art (Hangzhou) and the Central Academy of Fine Arts (Beijing), and supervises doctoral studies.
Jiang Jiehong curates contemporary Chinese art exhibitions in China and the UK, including recently, Guanxi I (Guangzhou: Guangdong Museum of Art), Guanxi II (Beijing: Today Art Museum), Beyond Memory: Contemporary Photography in China (Beijing: CAFA Museum of Art, 2010), the Tale of Angels (London: Red Mansion Foundation, 2009), and Collective Identity (Manchester: Chinese Arts Centre and Hong Kong: University Museum and Art Gallery, 2007). He is also editor of Burden or Legacy: from the Chinese Cultural Revolution to Contemporary Art (Hong Kong: Hong Kong University Press, 2007) and Guanxi: A Collection of Letters with Twelve Artists (Shanghai: Shanghai Literature and Art Publishing Group, 2011), and author of the Revolution Continues: New Art from China (London: Jonathan Cape and the Saatchi Gallery, 2008), Red: China's Cultural Revolution (London: Jonathan Cape, 2010), and A Decade Long Exposure: the Central Academy of Fine Arts and Chinese Contemporary Photography (Shanghai: Shanghai Literature and Art Publishing Group, 2010).
Mark Nash is an independent curator and writer, until recently Professor and Head of Department, Curating Contemporary Art at the Royal College of Art London. He collaborated with Okwui Enwezor on The Short Century exhibition and Documenta11, both 2002 and Ute Meta Bauer on the 3rd Berlin Biennial 2004. Post Documenta11 he has written extensively on artists' work with the moving image – both in his Experiments with Truth (Fabric Workshop and Museum, Philaelphia 2004-5) and his One Sixth of the Earth, ecologies of image at ZKM, Karlsruche and MUSAC, Leon. This latest exhibition continued to explore the artistic legacy of the formerly socialist countries, first explored in Reimagining October at Calvert 22 2009 (curated with Isaac Julien), which explored the artistic legacy of the Soviet period. Prior to joining the Royal College of Art, Mark Nash was Director of Fine Art Research at Central St Martins. He has also been a senior lecturer in Film History and Theory at the University of East London, and visiting lecturer on the Whitney Museum Independent Study Program and the Film Curating MA at Birkbeck University of London. He holds a PhD from Middlesex University. He is currently working on two exhibitions: Socialist Friendship for Calvert22, London in 2015 and The Shadow Never Lies (with Joshua Jiang) for ZKM in 2016.
About the exhibition
Date: April 30 – July 31, 2014
Venue: Shanghai 21st Century Minsheng Art Museum
Courtesy of the artists and Shanghai 21st Century Minsheng Art Museum, edited by Sue/CAFA ART INFO, for further information please visit http://21msms.com.
Related posts: