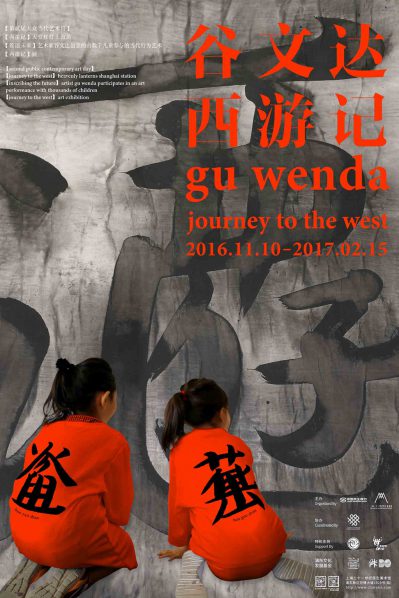 Gu Wenda: Journey to the West will be presented at the Shanghai 21st Century Minsheng Art Museum on November 9, 2016. The exhibition is composed of two parts: the art exhibition in the gallery and art installation outside the museum. The part of the exhibition in the museum includes the large-scale installation entitled "Genes & Metamorphosis" at the exhibiting venue of core tube as well as more than 300 pieces of work , and the part outside of the museum is divided into the large-scale installation "Red Light in Heaven |Shanghai Station" and the performance art planned around this art installation, which is "Signature of the Future on the Red Light in Heaven."
This exhibition does not only cover the experimental ink and wash work by Gu Wenda based on his individual creations, but it also showcases his art projects under the patterns of new artistic production and consumption in the context of new economy. The exhibition includes three parts: the first part covers his surreal ink and wash painting, ink performance and ink installation from 1981 through 1987; the second part includes a series of ink paintings of texts and images, ink installations and participation art which are based on word-formation; from "Alchemy of Ink" to the new work "Red Light in Heaven | Shanghai Station", the third part presents the documentary of the project, works produced in the project frame, resulting surplus material and a series of public education activities derived from it.
About the exhibition
Dates: Nov 10, 2016 – Feb 15, 2017
Venue: Shanghai 21st Minsheng Art Museum
Courtesy of the artist and Shanghai 21st Minsheng Art Museum, edited by Sue/CAFA ART INFO, for further information please visit www.21msms.com.
Related posts: