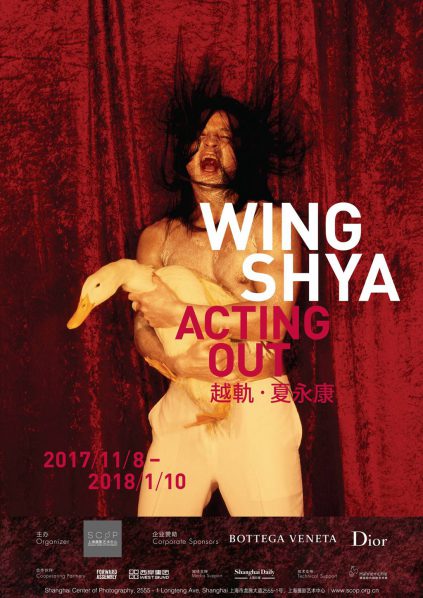 In the soft ruby glow of a street light, a neatly-suited Tony Leung faces an elegant Maggie Cheung, sheathed in a gorgeous cheongsam. It is the preeminently memorable image from the movie In The Mood for Love (2000), one captured by Hong Kong photographer Wing Shya. Currently Hong Kong's best known photographer in the field of film, and latterly style, Wing Shya came to fame working with Hong Kong's leading art-house film-maker Wong Kar-Wai: Wing worked on Wong's films, on and off set, from Living Together, filmed in Argentina in 1996.
It also seems that Wing also took the tag-line – "Why not start over?" – of that film's lead character He Baorong, played also memorably by Leslie Cheung as his modus operandi. Wing understands "Why not start over?" to mean "Never do easy", which has become his motto for life, and accounts for the parallel lines of creative activity in his work. In the mid-1990s, he began his creative work with a diverse range of graphic design, beginning with CD covers for the Hong Kong music industry. Later, among the signature images for Wong's films, there are also photo-collage works too, also included in this exhibition. And, in addition to shooting fashion spreads, magazine covers, and advertising campaigns, in recent years, Wing has produced music videos, and co-produced and directed his own films – Hot Summer Days (2010) co-directed with Tony Chan, and Love in Space (2011).
Against a diversity of form and subject, through his 25-year career Wing's photographic output has one unifying trait: mood. Atmosphere is everything about the way Wing creates images. Every element in each frame plays a part in shaping and projecting the mood, be that dark, intriguing, romantic, erotic, melancholy or tongue-in-cheek.
"Acting Out" brings together over 100 well-known and never-before-seen photographs from Wing Shya's films, editorial and personal work. It is the first major retrospective of a creative journey that continues to unfold.
About the artist
Born in Hong Kong, 1964. Wing Shya is one of the most prolific Asian contemporary artists that transmute among film, arts and fashion, with iconic works being seen around the world.
About the exhibition
Opening: 17:00 11.7, 1, 2017
Duration: 11.8, 2017 – 1.10, 2018
Time: Tue-Sun, 10:30-17:30 (The last entry17:00)
Address: 2555-1 Longteng Avenue, Shanghai, China (near Fenggu Road)
Courtesy of the artist and Shanghai Center of Photography (SCôP), for further information please contact info@scop-sh.com or visit www.scop.org.cn.
Related posts: