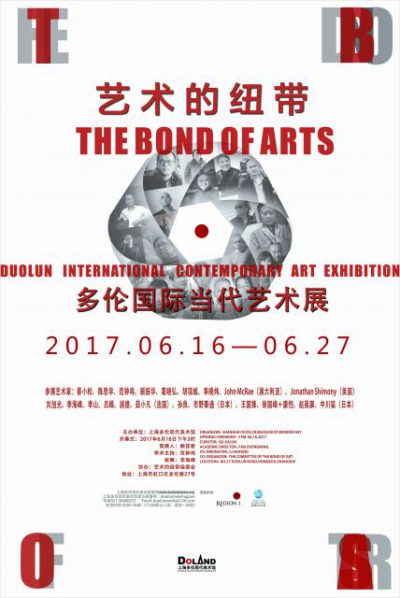 Bond of Arts – Duolun International Contemporary Art Exhibition will grandly launch in Shanghai Duolun Museum of Modern Art at 3pm, 16th, June, 2017. Shanghai Duolun Museum of Modern Art will host the exhibition and Bonds of Art Committee will be the co-organizer. Paintings, installations and photography works of 22 well-known artists from China, America, France, Japan, Australia will be on display.
Being the third stop for Bonds of Art – Contemporary Art International Exchange Series, Shanghai Duolun Museum of Modern Art would welcome artists with different cultural background to take part in the exhibition in a more tolerant and open way. Their goal is to link artists and art lovers with art as spiritual tie, which can surpass physical distance, material gap and language barrier and enrich people's cultural life as well as promote mutual understanding. We also provide a platform for artists to strengthen friendship and learn from each other.
The series will be exhibited in art galleries home and abroad under the policy of One Belt and One Road. Surely, the exhibitions will shine with extraordinary splendor in various galleries along the way. This will certainly be a long-term and sustainable art program.
About the exhibition
Dates: Jun 16, 2017 – Jun 27, 2017
Opening: Jun 16, 2017, 15:00, Friday
Venue: Shanghai Duolun Museum of Contemporary Art
Courtesy of the artist and Shanghai Duolun Museum of Contemporary Art
Related posts: