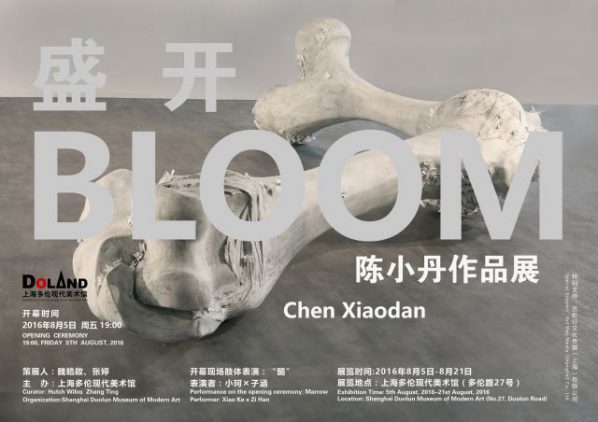 Bloom: Chen Xiaodan Solo Exhiibition will be launched in Shanghai Duolun Museum of Modern Art from 5th August to 21st August, 2016. Shanghai Duolun Museum of Modern Art will host this exhibition, displaying Chen Xiaodan's pottery, installation and video works using bones as links. Rich sensory experience will be brought in through improvisation work inspired by Chen Xiaodan's works which is performed by senior performance artist.
Chen Xiaodan's works tend to express self-sensitivity and life experience which makes her relationship with the art market estranged compared with her contemporaries. This, however, helps her to consolidate and develop herself little by little from another side and enable us to catch a glimpse of an unparalleled world through the artist's pure eye.
From clay to bone, the image of life and death in Chen Xiaodan's works go through multiple transformations. The process of turning clay to pottery itself is a kind of rebirth and finally pottery presents itself as the image of bone (remnants of the death). Thus, the audiences experience the conversion of life and death in concept and visual sense. But this kind of conversion is not brutal or ruthless. These bones fired by pottery, the flowers in various shapes, installation made by animal bones which are supposed to be provocative and fierce appear to be quiet, elegant even morbidezza. The artist endows these images with her feminine characteristic and those flowers reveal both imaginary and real sense like Chuang Chou's Dreaming a Butterfly concerning the philosophy of life, death, reality and fairyland. Chen Xiaodan freeze-frames life and death experience in her works as eternity in virtue of pottery is reborn from the fire. In the noisy and fickle environment, every audience is driven to think about the inevitable question.
Shanghai Duolun Museum of Modern Art has long been dedicating to promoting the development of contemporary art, focusing on multiple eco-cultures. They hold exhibitions involving every aspects of contemporary people's spiritual life. Therefore, they are happy to witness a female artist being active in artistic stage home and abroad such as Chen Xiaodan who presents perception and insight into life to the audience. They hope that such an exhibition can give every audience a chance to slow down and think about for a moment.
About the exhibition
Dates: Aug 5, 2016 – Aug 21, 2016
Venue: Shanghai Duolun Museum of Modern Art
Courtesy of the artist and Shanghai Duolun Museum of Modern Art, for further information please visit www.duolunmoma.org.
Related posts: