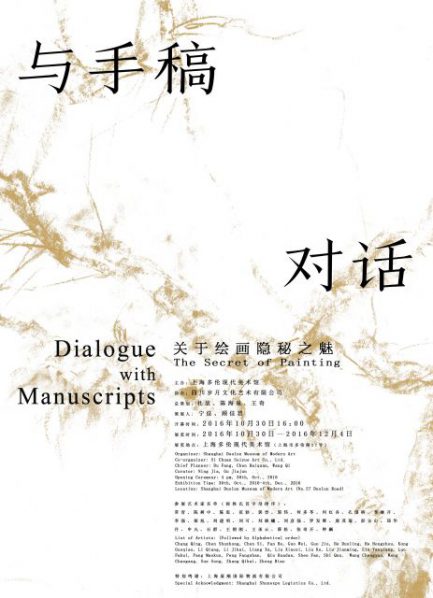 The grand opening of Dialogue with Manuscripts – The Secret of Painting will be held in Shanghai Duolun Museum of Modern Art at 4pm on 30th, October, 2016. This exhibition is organized by Shanghai Duolun Museum of Modern Art and co-organized by Si Chuan Suiyue Art Co., Ltd. And the participating artists range from 1940s to 1980s, among who have become a name long ago in the 1980s as well as young people who have just begun to display talents. Their works and manuscripts will reveal the long-lasting and attractive secrets of painting.
In the field of contemporary art, electron, image, digital technology constantly generate new artistic language. Compared with the direct use of new media art to the high-tech, painting is more influenced by image made by high-tech, thus becoming image's image, which also becomes the new characteristics in language expression of contemporary painting. We can sense information from mass media and popular culture in the young artists' works no matter how artists are influenced by the technology, actively or passively. While we perceive the new creativity that art constantly generates, we should meanwhile keep sober-minded attitude. We should ask ourselves whether it is good or not to quote directly or indirectly of the image information produced by the new technology.
Duplication, electron and internet eliminate all discrepancy, which makes all people and things complanate, superficial equal and more entertaining. Serious thinking appears to be luxurious, unreasonable and absurd. The reason why the exhibition lays emphasis on the manuscripts is that it aims to explore the nature of painting to arouse the desire for the spiritual home. Undoubtedly, painting is an important way of expressing feelings and communicating with the world since painting owns profound historical tradition rooted deeply in people's hearts, far as Lascaux Cave paintings in the Old Stone Age and near as instinct scrawling of a two-year-old child. Manuscripts are the artists' ideation and are collected and accumulated material for complete creation. And drafts indicate wonderful stories behind painting and also reveal clues and keys to the secrets of painting. When we put finished painting works and manuscripts together, it seems that they can help us penetrate the city's hustle and bustle and experience the artists' thinking track and luxuriant emotions.
The exhibition will remain on view till 4th, December, 2016.
About the exhibition
Organizer: Shanghai Duolun Museum of Modern Art
Co-organizer: Si Chuan Suiyue Art Co., Ltd.
Chief Planner: Du Fang, Chen Haiquan, Wang Qi
Curator: Ning Jia, Gu Jiajun
Opening Ceremony: 4 pm, 30th, Oct., 2016
Exhibition Time: 30th, Oct., 2016-4th, Dec., 2016
Location: Shanghai Duolun Museum of Modern Art (No.27 Duolun Road)
Special Acknowledgment: Shanghai Shunexpo Logistics Co., Ltd.
List of Artists: (Followed by Alphabetical order):
Chang Qing, Chen Shuzhong, Chen Si, Fan Bo, Guo Wei, Guo Jin, He Duoling, He Hongzhou, Kong Guoqiao, Li Qiang, Li Jikai, Liang Xu, Liu Xiaoxi, Liu Ke, Liu Jianming, Liu Yanqiang, Luo Fahui, Pang Maokun, Peng Fangshan, Qiu Huadan, Shen Fan, Shi Qun, Wang Chengyun, Wang Chaogang, Xue Song, Zhang Qikai,Zhong Biao
Courtesy of the artists and Shanghai Duolun Museum of Modern Art, for further information please visit www.duolunmoma.org.
Related posts: