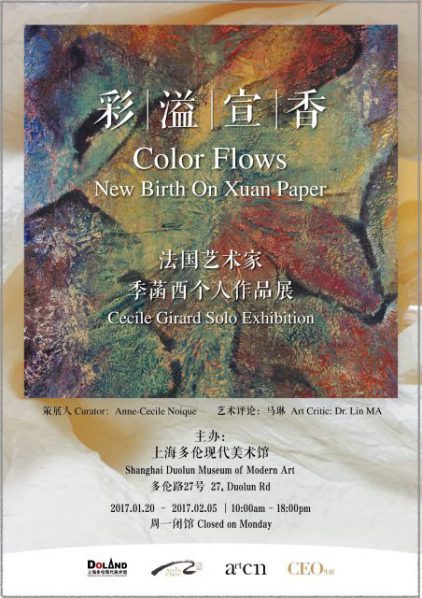 Well-known French artist Cecile Girard's solo exhibition"Color Flow – New birth on Xuan Paper'' will be open to the public from January 20th to February 5th 2017 at Shanghai Duolun Museum of Modern Art.
Cecile Girard is a French painter. In her works, the slate-like textures are merged with pictograms, which spontaneously plunge our thinking into ancient times. Speaking of Primitivism in art history, it has always been a significant theme with its much historic value – whether in terms of subject or form – especially when after the movement of Post-Impressionism and Cubism in modern art history. Like Cecile, though with her deep-rooted background of French Modern Art, she devoted herself into the religious search of its Oriental source of inspiration. Commencing with her studies on Chinese calligraphy, Cecile explores it with the property of Xuan paper to self-permeate so as to comprehend the profundity of Eastern Art.
This exhibition includes over 45 works produced by Cecile Girard from 1999 up to nowadays, which encompasses 15 series of different styles. From these works, we will perceive her perspectives about the fusion of Eastern and Western cultures through her experimentation of intertwining: calligraphic style, pictogram, Chinese landscape painting, Zhongcai, and stained glass. With the variegated texture, the works become in possession of dimensions of time and of remote fantasies, which evoke an allusion to diverse pictographs and imagination. Especially in her recent works, the paintings are endowed with a sort of sense of heaviness as a result of – her adventurous experimentation with material, her use of extensive field of colors, and her bold expressions with outlining; at the same time, infused with the power from the superimposition of various non-ink pigments. Though Xuan paper is used and after being processed with special treatment, it turns immediately into different languages of texture, in which the wrinkles and the hollow strokes reveal from the concavo-convex of the paper–as if, with the innumerous brushstrokes in shifting space its traces. Underneath the vague surface, we can still see the presentation of landscape and writing symbols in a form of fragments. Hence, this Eastern vision in her painting forms into Cecile Girard's own pictorial vocabulary, simultaneously, originating a new orientation of art language.
This exhibit not only shows her past achievements, new explorations, and aslo her continuous enthusiasm for the art of painting and infinite love for the Chinese culture.
About the exhibition
Dates: Jan 20, 2017 – Feb 5, 2017
Opening: Jan 21, 2017, 16:00, Saturday
Venue: Shanghai Duolun Museum of Modern Art
Courtesy of the artist and Shanghai Duolun Museum of Modern Art, for further information please visit www.duolunmoma.org.
Related posts: